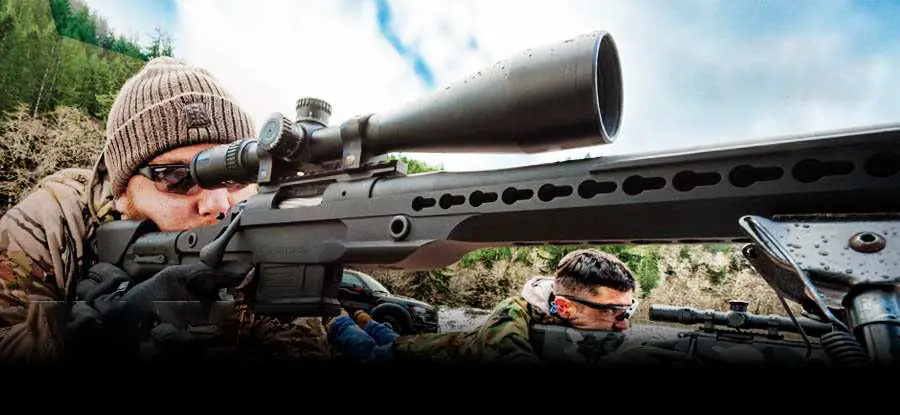 We hope you love the products we recommend and just so you know that as an Amazon Associate CoyoteHunting.org may earn from qualifying purchases.
Planning and purchasing the gear you need for your next hunting trip can be a challenging task. Whether you have the cash to splash on high-end gear or are working to a budget; making sure you get a great deal is on top of most peoples lists. Thats why I have put together this list of the best long range scopes under 1000 dollars.
In a Hurry? – Here is our customers MOST POPULAR pick for the best long range scopes under 1000 dollars…
This recommendation is based on the criteria of:
Ease of use
Build Quality
Value for money
What Exactly Is Meant By Long Range?
Great question! As this will impact the specific scope you choose to buy, and if you want to get the most 'bang-for-buck' (see what I did there…) you will need to consider the range of your weapon.
There isn't a clear answer to this, because it really depends on your rifle. The specific range of your rifle depends on two factors:
Caliber of your rifle
Barrel Length of your rifle
For example, someone who shoots with a .22 rifle would probably describe 100-150 yards as 'long distance'
However, an average skilled hunter using a 6.5 Creedmoor could potentially shoot accurately out to about 500 yards. With the right combination of a particular Creedmoor rifle, a high quality long range scope with great optics and a hunter with experience and skill, this range could be pushed up to as far as about 1000 yards – impressive eh!
For this reason, there is no singular definition of the term 'long range' and is really dependent on the ballistics of the rifle you're shooting with.
If you want to know more about these specifics and the kinds of things to look out for, read my buyers guide below.
Otherwise, read on and lets discuss…
The Top 5 Best Long Range Scopes Under 1000 Dollars
---
Ease of Use
This rifle scope is uses the First Focal Plane (FFP) model and therefore has reticle magnification settings along with the standard 6x-24x. This means that the size of the reticle scales with you as you zoom in, keeping the hash marks the same relative to the predator you are hunting.
There is a generous eye relief and eyepiece so you can focus on your target quickly.
Making adjustments is pretty easy as this scope has exposed tactical turrets and a parallax knob on the side. This means you can adjust the elevation, windage and parallax values at a pinch.
Build Quality
First of all, the scope is constructed from a single 30mm shaft of aircraft-grade aluminium. It comes with a hard-anodised finish to maintain its look and feel over time.
The shaft has been purged of nitrogen and sealed well using O-rings to ensure your view down the scope won't get fogged up even if weather conditions change.
Through the use of a combination of low dispersion glass and special lens coatings, this scope excels in effectively focusing light to give you a precise shot.
The optics are built tack-sharp and give you heaps of contrast to allow you to pick out your target easily. Not only that, because of the lens coatings, they are scratch resistant and won't be damaged easily.
Value For Money
For a scope that is priced not only less than $1000, but also less than $500, this is a great deal. The features included really make this scope an excellent edition to your next hunting trip.
Excellent construction and durability
Great optics – sharp clarity
Magnification setting can be switched quickly
The reticle is a little dim.
---
Another great product in the line up from Vortex Optics is the Viper HS-T. With such a huge list of features, you may need to take a valium when you see the ridiculously good price!
Ease of Use
The first stand out on this scope is the impressive eye box with a large eye-relief that allows you to take aim quickly and easily. 
The windage and elevation turrets are very precise, repeatable and durable. They are built specifically for dialing.
The reticle is hashmark-based and placed on the second focal plane – perfect for accurate holds even while at extended ranges.
Second focal plane (SFP) reticles are etched onto the glass near the scope's eyepiece. This type of reticle doesn't change in size with magnification.
The advantage of this type of reticle is that it always looks the same. Though there is a trade-off in that the estimated range, holdover and wind drift correction are only correct at a particular magnification setting.
Build Quality
As with all of the Vortex Optics range, This HS-T (Hunting, Shooting and Tactical) scope makes use of a single ultra-strong shaft of O-ring sealed, aircraft-grade aluminium.
It's construction is shock-proof and built to withstand both recoil and impact.
Similar to the Diamondback model in the same range from Vortex Optics, it also makes use of a matt-black hard anodized finish that assists in camouflaging your position while on the hunt.
Value For Money
I absolutely love what's on offer with this precision scope. If you're tossing up between this model (HS-T) and the Viper PST keep in mind that the main difference is the illuminated reticle. For a fraction of the price, I'm certain you would join with the MANY (yes, many!) other very happy customers. I truly is one of the best long range scopes under 1000 dollars.
Exceptional quality construction
Glass is crispy clear!
Both of the turrets, the parallax and focus knobs spin freely while still having a good tight feel and positive clicks
Doesn't have an illuminated reticle like the PS-T Model (though it is priced very well because of this)
---
Ease of Use
The Nikon BLACK X1000 has an illuminated glass-etched reticle that is located on the riflescope's second focal plane. This means that 18x magnification is where holdover corrections, ranging and other measurements should be done using the indicated reticle subtensions.
The advanced X-MOA reticle is uncluttered and clean. It has easy to use tools for estimating range, maintaining holdovers or dialing elevation and compensating for wind.
The reticle has 10 red-illumination levels of intensity (along with an OFF setting). This means you can easily switch your brightness adjustments.
Build Quality
The consensus is clear. This scope is a solid piece of kit for your next hunting trip. The clarity of the glass and reticle is of particular note.
As with the Vortex Optics models, this Nikon Scope features include being:
Waterproof
Fog-proof
Shockproof
Aircraft grade aluminium alloy was used the construction of it's 30mm main body tube. The scope is fully sealed to prevent moisture and is purged of nitrogen so that it doesn't fog up.
Being shockproof also means that recoil won't be an issue, and if you're one to treat your equipment like a something out of 'The Hurt Locker' then you are good to go.
Value For Money
At just over half way to the $1000 mark, this is another great option when it comes to your next hunting trip purchase.
Illuminated reticle
Crisp and clear optics
Full multilayer coatings on all air-to-glass surfaces multiple layers of anti-reflective coating maximize light transmission, brightness and contrast
Side-focus parallax adjustment and turret-mounted knob means you can make adjustments without shifting your shooting position.
As the reticle is placed on the Second Focal Plane (SFP) the scope isn't optimized for the highest power magnification.
---
The Bushnell Elite Tactical is another great option to consider. One of the notable differences between this scope and the others that made the list is that the Bushnell has feature called the Throwhammer Lever, but more on that in a minute.
Ease of Use
As with the Vortex Optics Viper HS-T model, this one doesn't feature the illuminated reticle; however it's really not a deal-breaker as the optics are very clear and crisp.
The eye relief is very generous meaning that your brow is safe when it comes to any recoil and they eye box is very useable.
As mentioned above, The DMRII has something called a Throwhammer lever, that allows you to apply quick magnification changes simply by flicking the lever with your finger. This is a proprietary design feature from Bushnell – and a great one at that!
This scope is another great example of a FFP setup meaning that your hash-marks are accurate right across all magnification settings of the scope, rather than just one specific setting.
Build Quality
Bushnell have done a lot of work here engineering a scope where the lens has a molecularly bonded protective coating that repels water, oil, dust and debris, this means that scratches effectively prevented. Bushnell have named this technology the EXO Barrier.
Bushnell Tactical Elite Scopes
The compact DMRII measures just over 13 inches and provides long-range precision without sacrificing short-range capability.
Value for Money
As far as value for money goes, this scope is definitely on the radar. It's optics ease of use and build quality match up with some much more expensive options.
Bushnell also carries a fantastic warranty plan they call the 'Bulletproof Warranty'
At full 24x power you will be able to see where rounds hit without a spotting scope out to about 500 yards
The cross hairs on the G2DMR reticle get thinner towards the center. This gives you the ability to place the cross hair on the target far more precisely.
No zero-stop or locking turrets
No illuminated Reticle
Very slight vignetting at the 6-24x magnification range
The scope is a little heavy – but it is housing a lot of glass in there.
---
We made it! As mentioned a few times, this is the top pick in my list of the best long range scopes under 1000 dollars. So lets get on with it and explain why I think it's the best.
This is the older brother of the Vortex Optics Viper HS-T.
This model (The PST) has the illuminated reticle.
Ease of Use
As with the HS-T Vortex Optics model, this scope is an absolute gem when it comes to its use.
The reticle is placed on the First Focal Plane (FFP) so as mentioned with the other scopes – the hash-marks are accurate right across all magnification settings of the scope, rather than just one specific setting.
The design of the scope give easy access to exposed target-style turrets on each side of the scope. This means that you can adjust the windage, elevation and parallax values with finger adjustable clicks.
Build Quality
The Vortex Optics Viper PST really is built to withstand the elements and anything else you throw at it.
It has been purged of argon gas and the barrel of the scope is both shockproof and waterproof.
Value for Money
Seriously this thing is a beast at such a price.
Not only this, but Vortex Optics have an amazing warranty. If it ever breaks, just send it back to them and they will sort you out.
Vortex Viper PST 6-24x50 Scope - FULL Review
Has an Illuminated Reticle with 10 illumination settings.
The 50mm aperture means that you don't always even need to use the illuminated reticle as there is plenty of light coming through already!
Zero Stop Feature – means you can easily return your adjusted values to zero
The scope zero is easy to move and adjust
Argon gas purging from the barrel of the scope provides exceptional shockproof and waterproof performance.
The magnification dial seems to be solid. It requires a nice solid grip, and some torque to adjust it – this means you won't accidentally bump it.