We hope you love the products we recommend and just so you know that as an Amazon Associate CoyoteHunting.org may earn from qualifying purchases.
---
Lets face it, sighting an object just through your rifle scope can be pretty tricky sometimes. 
That's why most hunters opt for a pair of binoculars to assist in spotting what they're after. 
A decent pair of binoculars can also be useful if you are out with another hunter, and want to assist in the spotting of prey and to make sure you have a clear view of the action. 
You don't want to miss out on the fun!
Even if you aren't an avid hunter, you won't be disappointed with the Vortex Optics Crossfire binoculars range.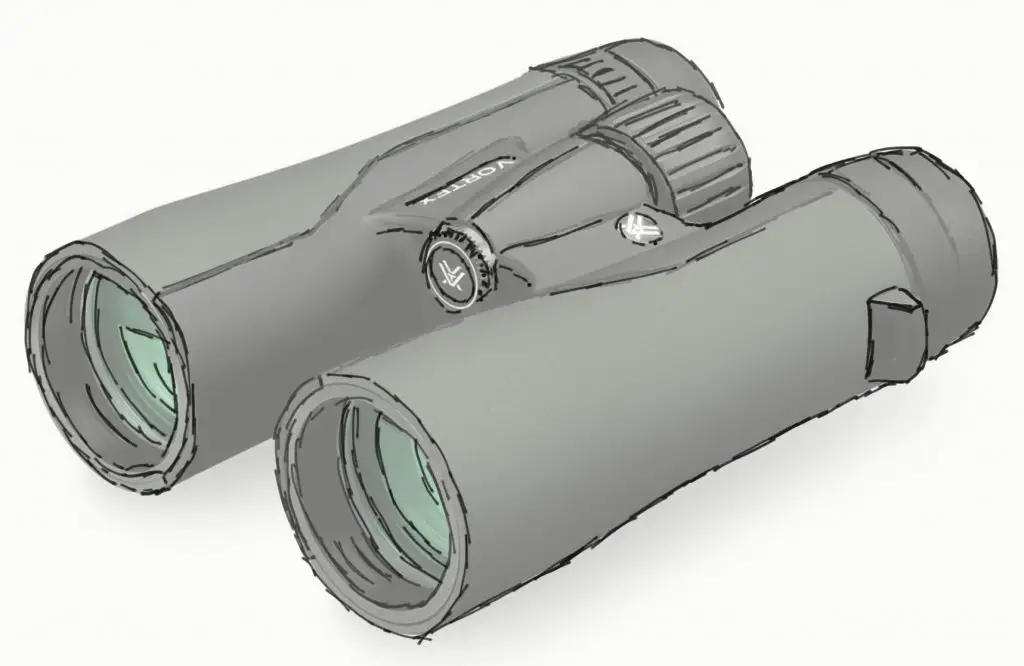 So are Vortex Optics any good?
Vortex Optics have been around since 1986 and have built their name on producing quality optics that people quite literally rave about. 
They are fully American owned, Veteran owned and Family owned. They are currently based in Barneveld, Wisconsin.
Dan and Margie Hamilton are the company founders, and remain the current business owners. On the Vortex Optics website they explain that all of their products are designed, engineered, pre-inspected and serviced in their Barneveld facilities.
One of the key components (and arguably a huge contributor to their success) is their comprehensive VIP Warranty service. 
When you purchase a set of Vortex Optics Crossfire Binoculars (or any Vortex product for that matter) you will receive:
UNLIMITED LIFETIME WARRANTY
FULLY TRANSFERABLE
NO RECEIPT NEEDED
On their website they state that:
"We will repair or replace your Vortex® product in the event it becomes damaged or defective—at no charge to you. If we cannot repair your product, we will replace it with a product in perfect working order of equal or better physical condition." – Vortex Optics Warranty Information
It honestly doesn't get much better than that. That is one of the reasons that so many people simply love their products. 
Read the reviews on amazon to see for yourself just how widely these guys are praised for their attention to detail, quality engineering and warranty guarantees. 
What are the Three Vortex Optics Crossfire Binoculars Options?
When it comes to making a decision about the binoculars you purchase it seems like you've already settled on the Vortex range, great job!
However, if you're still unsure of the brand you want, feel free to take a look at our other articles with some other great options first:
If you are decided, that's great, the Binocular options that exist in the Crossfire range differ in two ways, firstly is in the magnification rating, and secondly is in the objective lens size.
The three options in the Vortex Optics Crossfire range include:
Vortex Crossfire 8×42 – 8 Power Magnification and 42mm Objective Lens
Vortex Crossfire 10×42 – 10 Power Magnification and 42mm Objective Lens
Vortex Crossfire 12×50 – 12 Power Magnification and 50mm Objective Lens
Features of the Crossfire Range (ALL 3 Binoculars):
The internal glass elements have been crafted to cut chromatic aberration (weird pink and purple colors that appear on high contrast edges), provide outstanding color fidelity, edge-to-edge sharpness and an exceptional transmission of light.
Anywhere that the on the bino's are 'air-to-glass', Vortex have multi-coated the lenses to increase light transmission and reject reflections.
The roof prism within the body of the binoculars has been designed to be very durable and maintain a small size to keep the weight down.
The eyecups are adjustable and can easily be adjusted for those viewing with or without eyeglasses. The centre wheel adjusts the focus while a diopter (on the right eyepiece) allows for the adjustment for ones' particular eyes and/or eyeglasses.
Coated with non-slip rubber armor for protection, means that even if you do happen to drop them, they are pretty tough!
Tripod adaptable – mount it on a tripod and the like for simple – unshaken viewing.
These guys are fog proof and water proof – the o-ring seals and nitrogen purging mean they are ready to go in all situations
Lastly, these binoculars feature a rugged construction designed to withstand recoil and impact.
Vortex Optics Crossfire Binoculars 8×42 Review
>> Check Price & Availability <<
At the time of writing this, the Vortex Crossfire 8×42 are the most inexpensive in the Crossfire range yet still pack quite a punch. 
These Binos' offer 8x magnification and have a 42mm Objective lens. This nice balance between the slightly lower magnification and smaller objective lens means that the image remains nice and bright. This is because the lower magnification reduces the need for the larger light-gathering objective lens. 
Ok, I just want to flag this here, the pros and cons of each of these binoculars are very similar. They are quite obviously from the same range and have been built with very similar features. I will still outline them for each, but the main difference each model is the magnification and the size of the light-gathering objective lens. 
Vortex Optics Crossfire Binoculars 10×42 Review
If you're looking for a slightly more magnified view, the Vortex Optics Crossfire 10×42 might just be what you're after.
These guys have a magnification rating of 10x and an objective lens size of 42mm. This means that while you get slightly more magnification, the maintaining of the Objective lens size in comparison to the 8×42 means it will be slightly dimmer. This just means that if you are wanting to use these frequently in lower lighting conditions, you may need to weigh up your options here.
If that isn't a worry for you, and you plan to use these primarily for daytime-spotting, then don't stress as these will perform grandly!
Vortex Optics Crossfire Binoculars 12×50 Review
The next great option is the 'Light and Bright' option because of it's 50mm objective lens. It also has a further extended range with 12x magnification. These guys go hard and perform well in low light. If you're wanting to use these guys into the late evening, they are a great option.
They do weight slightly more because of the internal lenses, so there is that to consider.
FAQ's about the Vortex Crossfire Binoculars Range
Does it come with Harness and Lens covers?
Are they waterproof?
Yes
Does it have a tripod screw mount?
Yes it does
What is the weight of these Binoculars?
23 Oz or 1.43 Lbs
Are these Roof Prism Binoculars?
Yes
Are the Vortex Crossfire Binoculars good for astronomy viewing?
These are fantastic for astronomy! Having said that, specifically for comets, these 12×50 Crossfires have a field of view of 5.2 degrees, so you may not fit all of a comet and it's tail into the field of view… You may want to look at one of the lower power Crossfires (8x or 10x) if "comets are your thing" as they have wider fields of view.
How close can you focus with these binoculars?
This is referred to as the 'Minimum focal distance' and can vary greatly between brands. The Crossfire range have a minimum focal distance of 6 or 7 feet – roughly.