We hope you love the products we recommend and just so you know that as an Amazon Associate CoyoteHunting.org may earn from qualifying purchases.
ATN X Sight 4K Pro Review – The Quiet Achiever…
>> Click Here to Check Stock Availability <<
Well, it sure seems like ATN have done it again. The ATN X Sight 4K Pro is jam packed with loads of new technology and at the time of writing this (late 2019) its one the most popular day/night scopes on the market. In this ATN X Sight Pro 4K review, I have done my best to outline all of the features, as well as a comprehensive look at what ATN customers are saying about their purchase.
Deciding on the right type of night-vision rifle scope you choose is a seriously daunting task. Particularly when so many of the top brands have a feature list miles long, and a price tag to go with it.
The thing is that the ATN X Sight Pro 4K stands out because of it's price tag… In a good way! It comes in under $1000, which is incredible when you see what this thing is capable of.
This rifle scope sits nicely in the ATN Smart UltraHD Scope range that allows you to connect your phone or tablet to it to give you so many new and exciting features.
The ATN company began as a couple of guys from California who started to work with vision optics out of an old bank building. These days they employ 50+ people and are worth over $40 million dollars. The CEO of the company is James Munn and he is particularly proud of this line of products.
This unassuming, relatively standard looking rifle scope contains everything from a 4K sensor, to a Ballistic Calculator and the ability to live stream your hunt! Just crazy! Check out the features below:
A Brief Overview of the ATN X Sight 4K Pro
So Many Features!
On the surface, this rifle scope looks like any other, but under the hood it boasts a comprehensive line up of features that will take any seasoned hunters' breath away.
PROS
5-20x magnification or 3-14x
4K UltraHD Sensor
Night Vision
Ballistic Calculator
One Shot Zero
Ultra-low power use - 18+ hours
Range finder built-in
Pairs with your phone!
CONS
There are some negative thoughts from customers - read below to find out:
A Warning though…
OK, so this is where this review differs from most. I'm not going to just rattle off all the overly positive details from the ATN website. That wouldn't really be helpful.
I want to give you a well-rounded and honest review with some actual feedback from those that have purchased the product.
The truth is that not all customers are happy with their purchase of this ATN Scope, so stick around to the end to find out what their complaints were before rushing into buying one…
back to menu ↑
What Exactly is All The Fuss About though?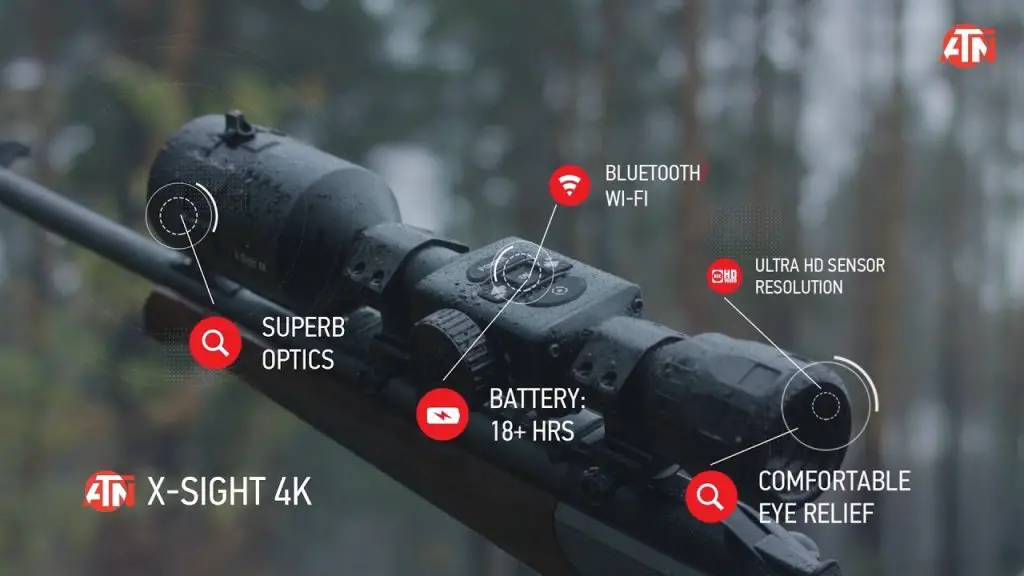 Alright, so here's the extensive list of features that everyone is raving about:
Obsidian 4 Processor and APP compatibility – Means you get to use the Obsidian 4 APP on your mobile device.
Comes in two focal lengths – 5-20x magnification and 3-14x magnification
UltraHD 4K Day/Night sensor that gives a super crisp image down the sight
Night Vision Mode – the x-sight PRO 4K uses the UHD sensor to give you a stunning picture at night time, so you never miss a shot – even at night!
Records in a HUGE 120 Frames per second at FullHD (1080p) – Play it back at 25fps for super-slo-mo and you won't miss an instant
LIVE STREAM! In 720p 🙂 All while recording to the SD card at 1080p!
RAV – Recoil Activated Video – No need to hit record, it pre-buffers video continuiously before you take the shot. When you take the shot, it records everything from a few seconds prior.
Ballistic Calculator built in that includes:

One Shot Zero feature means you take a single shot, adjust your reticle – and you are ready to hunt!
Calculates based on:

Range
Wind
Individual Weapon Profiles
Angle-to-target
Temperature
Humidity – and more

Smart Range Finder – It's fast and easy to make a good estimate of the distance to your target
WiFi connectivity – Allows for streaming, gallery viewing & Controls of the scope – iOS & Android
18+ Hours of **CONTINUOUS USE** Battery Life – Rechargeable Li-ION battery
Comes with a heap of accessories including:

eyecup
sunshade
standard rings (2pcs)
L-Shape ring
Ring with picatinny rail
UBS-C cable
Scope cover and a lens tissue

Comprehensive user manual
Lets deep dive a even further now, to really understand the key features
back to menu ↑
Night Vision
According to the ATNCorp website, The X-sight 4K Pro offers an Enhanced HD Night Vision Mode. Check out this video showing it in action on a wild boar hunt
back to menu ↑
Record AND Stream Your Hunts
Take another look at the video above. That was recorded at 1080p AT NIGHT TIME, and it is tack sharp. Here's another video of the recording feature shot during the day time.
back to menu ↑
Rangefinder and Ballistic Calculator
Taking into consideration a massive number of environmental and gun specific factors, the balistic calculator (in conjunction with the 'One Shot Zero' feature as discussed next) is amazingly accurate from the get-go. Simply enter your gun and bullet profile and away you go.
Some of the factors that affect bullet trajectory include:
Relative Humidity
Wind Speed
Wind Direction
Temperature
Barometric Pressure
Altitude
Things like Pressure and Altitude will be set automatically using your scopes internal sensors. Other information you can input into your scope manually, by utilizing the Obsidian 4 app your mobile device (discussed below).
back to menu ↑
One Shot Zero
The One Shot Zero feature is a great one that truly shortens the amount of time i takes to get your rifle shooting true with the scope. All you need to do is take one shot, align it with the cross hairs and push a button. Take a look at the video below to see exactly how it works.
back to menu ↑
Obsidian 4 App – iOS and Android
The obsidian 4 app is the best way to access and control the features of this rifle scope. As I mentioned, it's compatible with both iOS and Android. You can see in the video below just how easy it is to set up and use:
back to menu ↑
ATN X Sight Pro 4K Review – Specifications
Magnification: 5-20x OR 3-14x
Field of View (at 1000 yards): 240 Feet (5 Degrees)
Sensor: ATN 4K M265 Sensor, 3864 (H) x 2218 (V)
Core: ATN Obsidian IV Dual Core
System Resolution: 600LP/mm
Micro Display (EVF): 1280 x 720 HD Display
Eye Relief: 90mm
Video Recording Resolution: 1080p at 30/60/120
WIFI: iOS and Android
Micro SD Card: 4-64GB
Mount: 30mm standard rings (included)
Battery: Internal Lithium ion battery
Warranty: 2 Years
Package Contents:
ATN X Sight 4K Pro Edition 5-20x Smart HD Day/Night Riflescope
Eyecup
Sunshade
Standard rings (2pc.)
IR850 infrared illuminator
L-shape ring
Ring with Picatinny rail
USB-C cable
Scope cover
Lens tissue
---