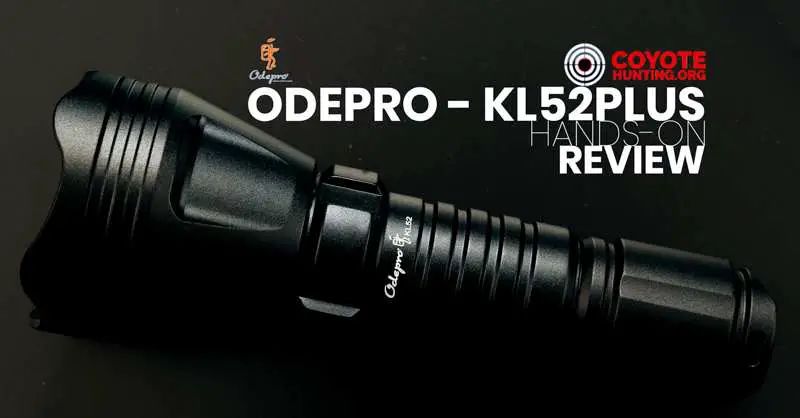 We hope you love the products we recommend and just so you know that as an Amazon Associate CoyoteHunting.org may earn from qualifying purchases.
---
I was recently contacted by an Odepro representative to take a good look at this sweet piece of kit.
And, wow! I have to say I'm pretty impressed.
The package arrived in a neat cardboard box wrapped in bubble wrap. However, the sturdiness of the plastic casing would have probably been all that was required to keep it safe in transit.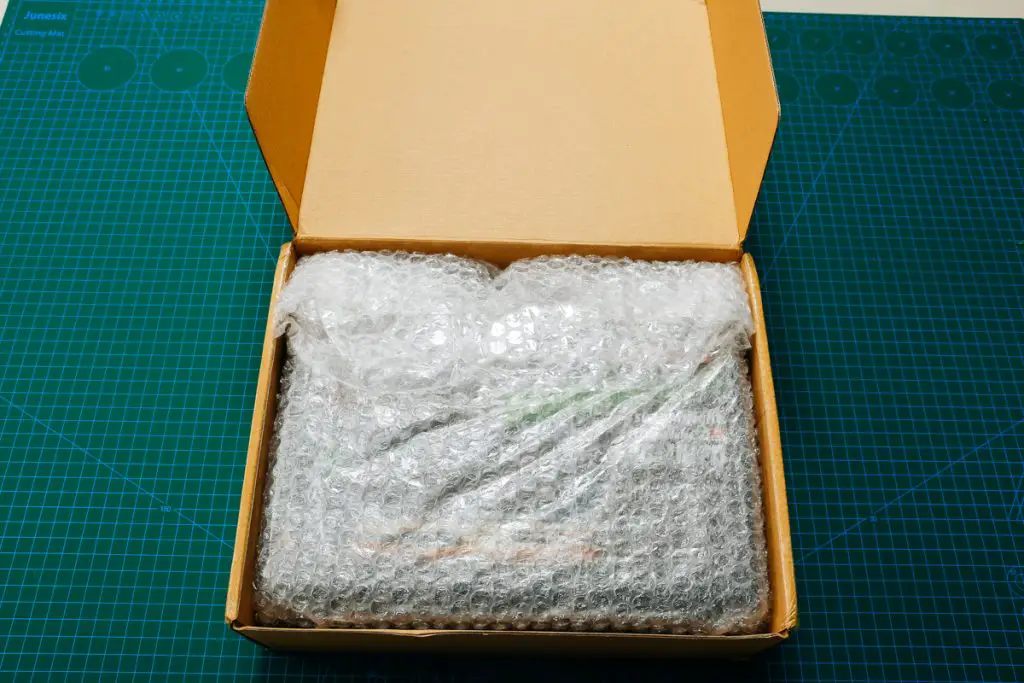 From the get-go, the whole kit just felt 'quality'.
If you've ever considered a hunting trip at night, then you've probably considered what flashlight might be the best. Including how bright you might need it to be – and what the best color might be.
Thankfully, pretty much all the bases are covered with the Odepro KL52plus Zoomable flashlight.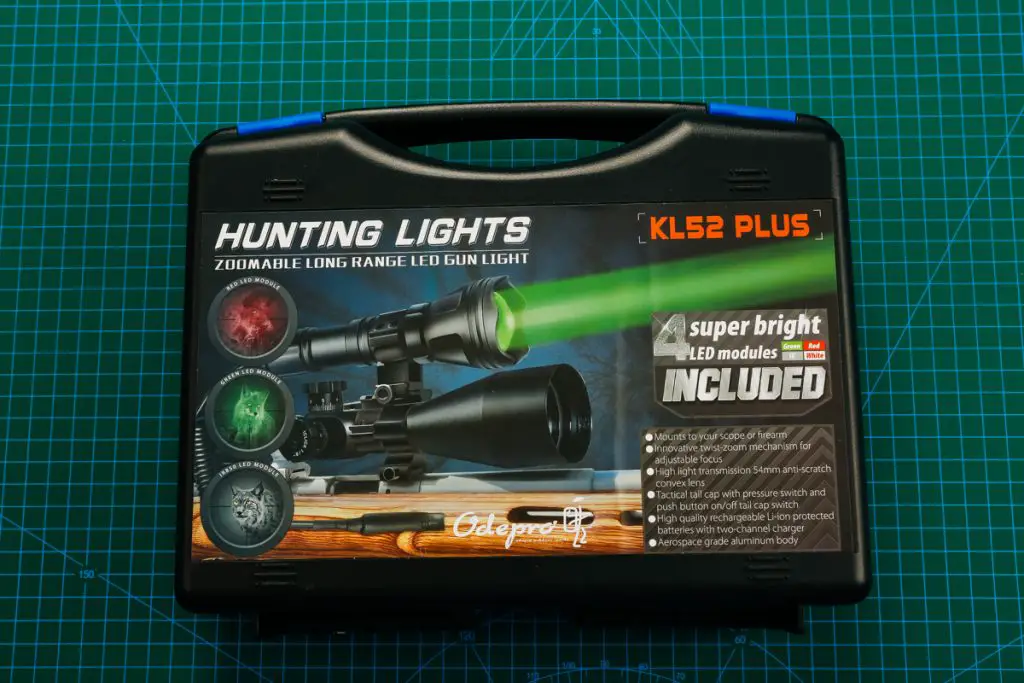 The beauty of this particular model is the fact that you can use it in conjunction with the rifle scope as well, which increases your efficiency manifold.
So should you buy it?
Totally your call… but I loved it!
Before you dive into the review, you should probably check stock availability and price by clicking the button below now:
>> Check Price & Availability <<
About Odepro The Company
Before we get to the specifics of the flashlight, it's a good idea to do some investigation in the the brand as a whole. This should give you some idea of who you're buying from and help you decide if you want to trust their products.
Odepro has been around since 2013. They sell OEM products in the United States as well as in Europe. They primarily focus on various types of lights. The company actually has its own Research and Design center, which I think is pretty great. Its probably the main reason they come out with some quite innovative products from time to time.
Their products ranges across a few different categories like:
Diving
Riding
Hunting
Exploration
So whats the take away from this?
If you decide to grab the KL52Plus, you know that it's backed by years of research and development. You know that they manufacture their own designs rather than just a white labelled product like many of the would-be retailers that exist these days.
In terms of the credibility, I'm pretty satisfied these guys are on the level and producing products that will stand the test of both time and the elements.
First Impressions of the Odepro KL52Plus
When the postlady dropped off this package it took me a moment to remember what was inside. The nice heft of the package was enough to get me excited about getting out the box cutter and opening it up.
When I opened the outer cardboard box, I was happy to find the plastic moulded carry case for the Kit. The stickers on the front and back do a great job of both showing what is inside, and being a great reference for the technical aspects of the flashlight.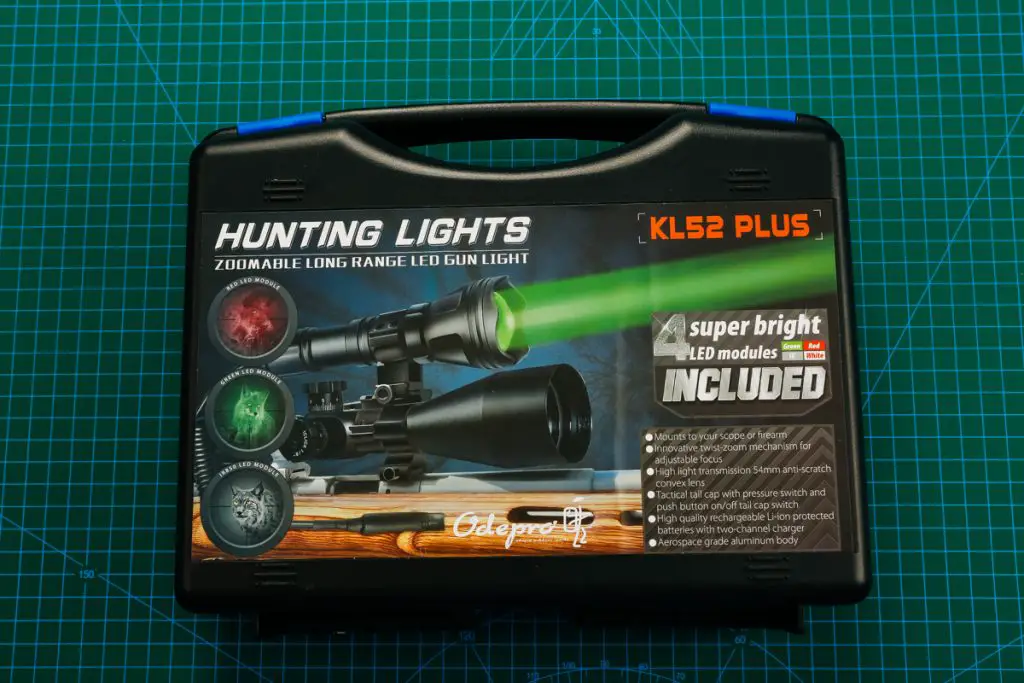 Opon opening the clasps and viewing the contents, three things stood out for me.
The first was the matte black machined aluminium of the flashlight.
The second was the bulging clear glass lens that – as a keen photographer got me super excited to try it out.
The third thing was the overall precision and attention to detail of all the different components – logically laid out and easy to access.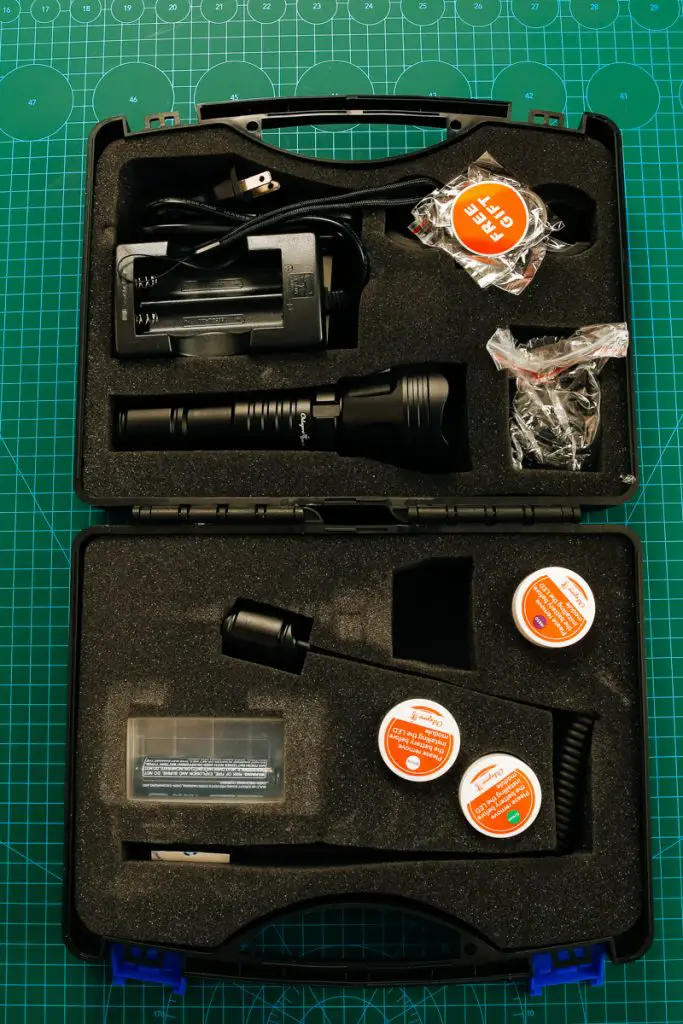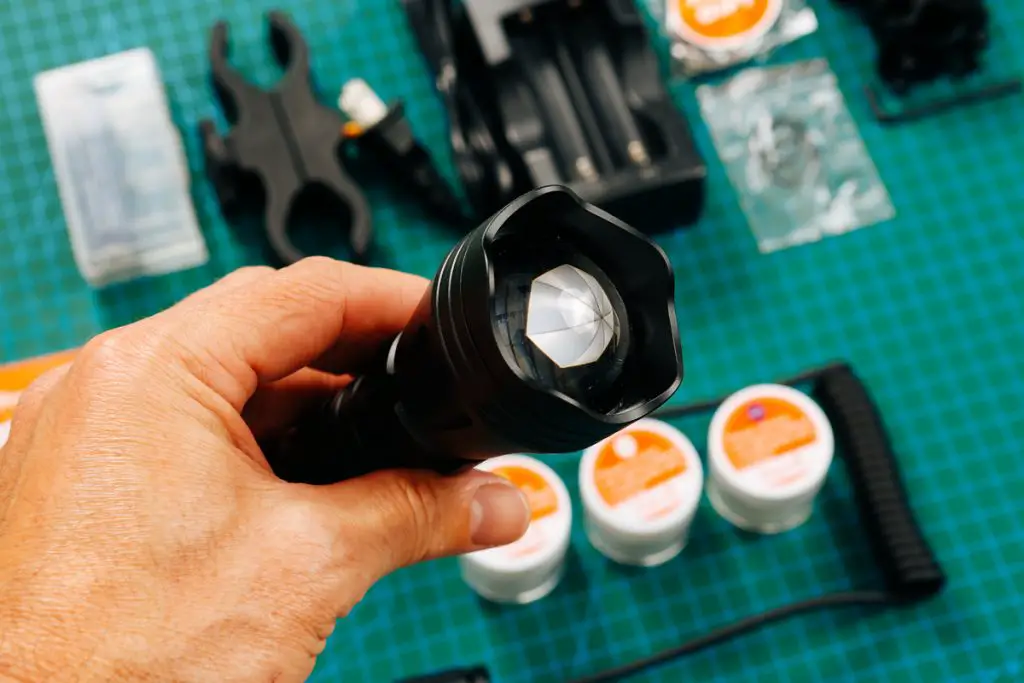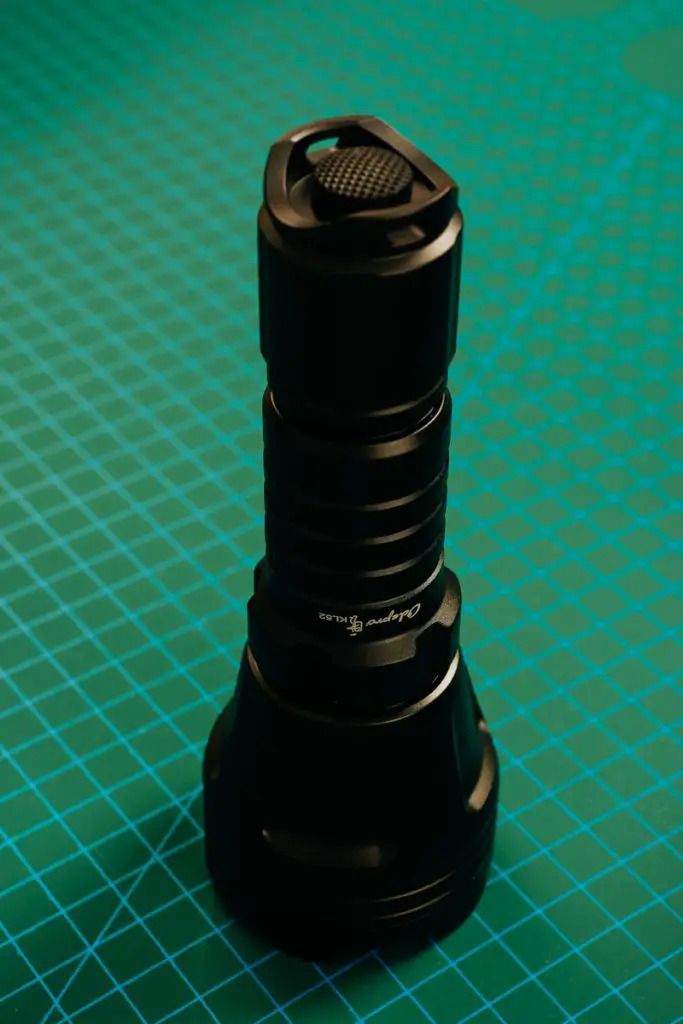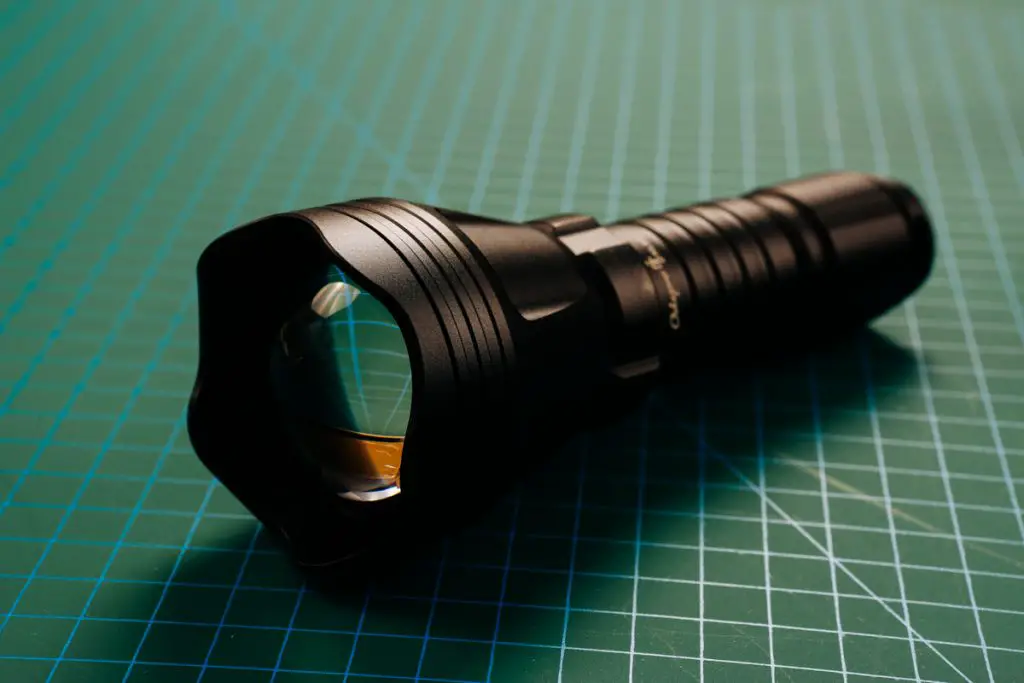 >> Check Price & Availability <<
Features and Benefits of the Odepro KL52Plus:
Let us now check the features of Odepro KL52Plus Zoomable Hunting Flashlight to understand what it offers.
Excellent reach:
One of the primary features of any light is the reach that it has. This one has a reach of 1350 feet.
>> Check Price & Availability <<
>> Check Price & Availability <<
As a result, it is easy to increase your visibility over a long distance. The reach also depends on the mode in which you are using it. The maximum reach mentioned above is in high/zoomed mode. With the reach like that, you would not have to worry about the light conditions after dusk.
Interchangeable LED Modules:
In my other posts, I have addressed the best color light to use while hunting. The beauty of this flashlight is that you have full control. If you try out one color, and decide it's not for you, simply unscrew it, and screw in the new module.
The KL52Plus comes with four different color LED lights. You can switch between:
Red LED light
White LED light
Green LED light
IR 850 nm LED light
As a result, you can hunt in any situation and any surroundings. The interchangeable LED module certainly helps this hunting flashlight stand out.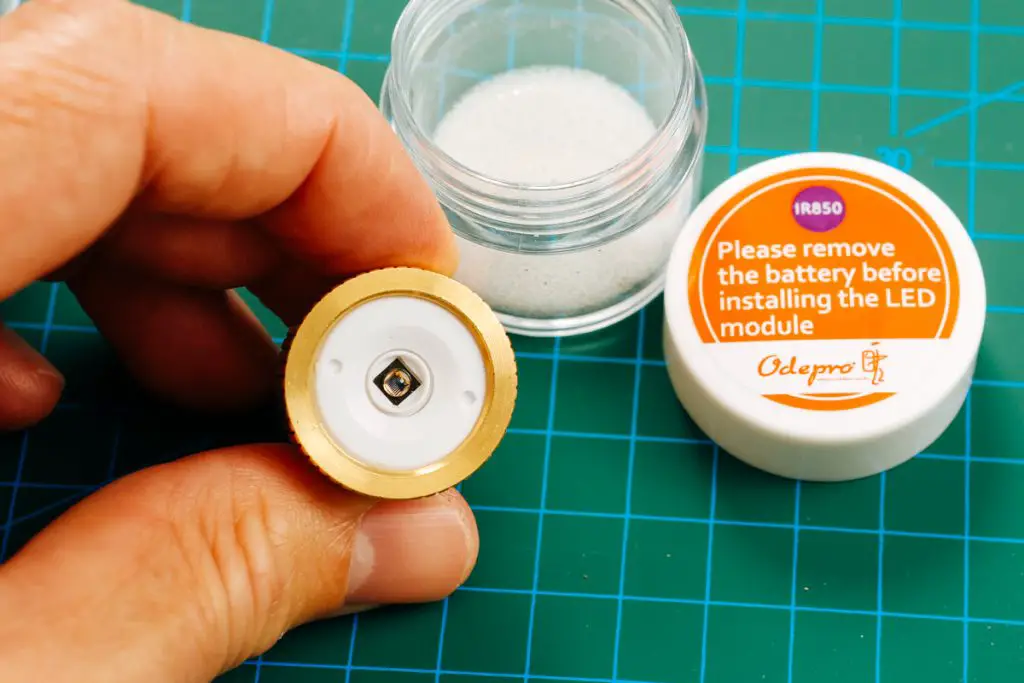 Remote Switch: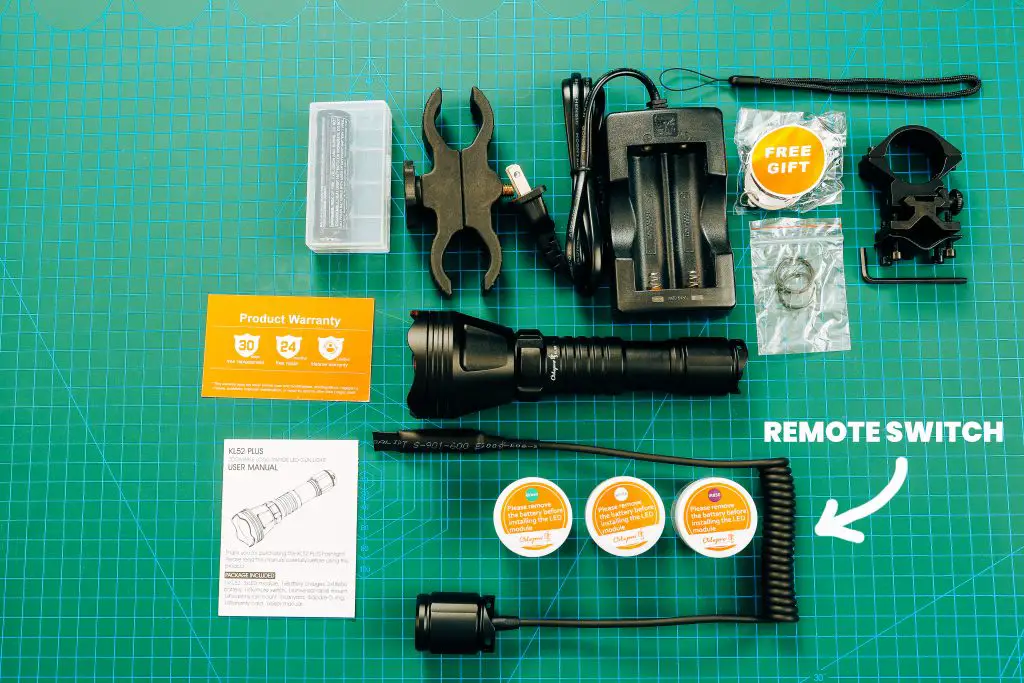 Of course, when you're focused on your prey, there isn't much time to fidget around with the settings, and even if there was, you would have to take your eye away from the cup and mess with the switch on the back of the flashlight.
For this reason, this flashlight comes with an intelligent pressure switch that is easy to attach. All you need to do is unscrew the existing base of the torch, and screw on the remote switch cord.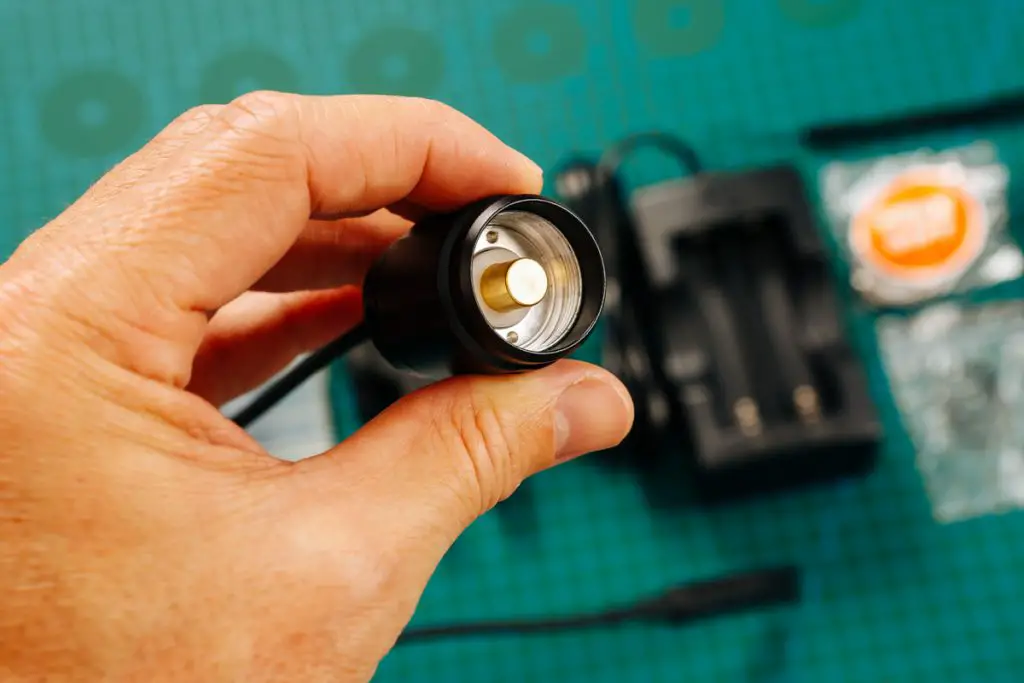 Using the remote switch means:
You can turn on and off the switch without having to take your hands off the gun.
The button makes almost no sound, so you won't be spooking your prey, or breaking your focus.
The switch comes with some quality double sided tape on the back so you can easily attach it to your rifle for easy access.
TWO in ONE Mount:
Where would you like to install this hunting flashlight?
On the rifle? Not a problem!
On the scope? Sure, you can!
The 2 in 1 mounting design means installing it on the rifle or scope as well. As a result, while using it, you will not have to make any adjustments.
Weather & Impact Resistance:
Of course, the ruggedness of the hunting flashlight matters a lot. If you're choosing a hunting flashlight that is not up to the mark, it can let you down during the actual hunting trip.
For this reason, this flashlight has a 1-meter impact rating.
This is because of it's aircraft-grade aluminum body and weather sealing (including extra seals). This makes it shock-resistant, water-resistant, and weather resistant.
The KL52Plus's rugged construction means that no matter how hard you treat it, it seems like it won't disappoint you.
Adequate runtime:
With a runtime of 3.3 hours, you can be sure that it can last throughout the hunting trip. You need not worry about the light letting you down when you need it the most.
I did a quick test with the White and Red LED modules and found that these ratings checked out pretty accurately.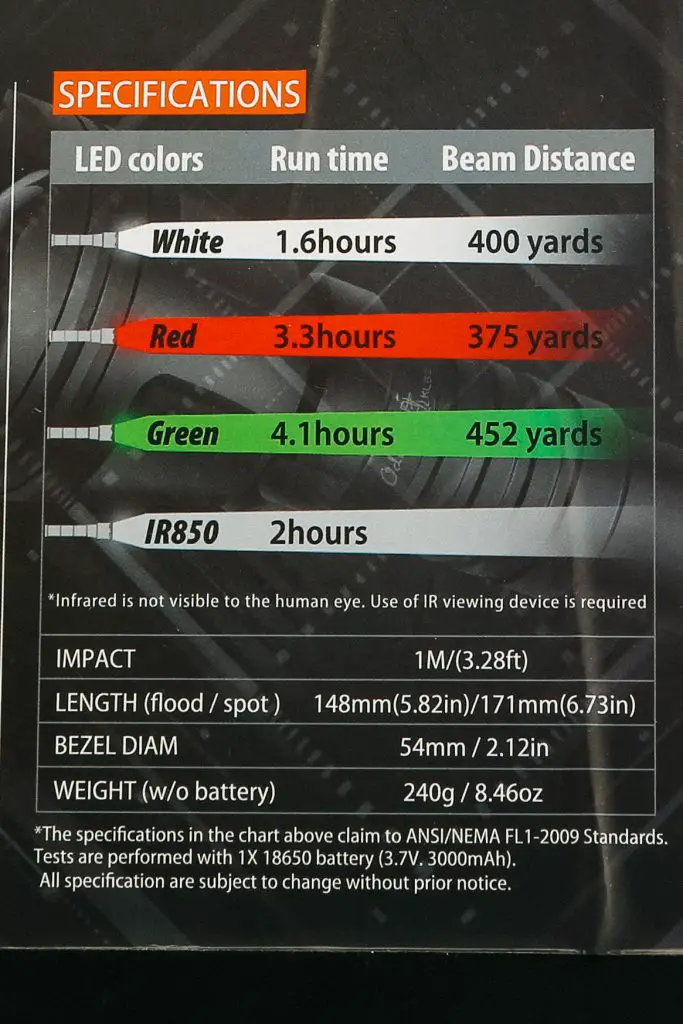 >> Check Price & Availability <<
Excellent Illumination:
As you can see in the image above, the illumination on this thing is pretty badass.
The green LED module has the longest throw and also the longest battery time rating, however the other LED modules also offer some pretty good stats.
The KL52Plus offers 100 lm of illumination. In pitch darkness, 100 lm of illumination is perfect to spot predators like a coyote. Having such a solid illumination distance means that no matter what your prey is, this thing will be pretty effective on your next trip.
Reliable battery:
The hunting flashlight comes with two batteries. These are 18,650 batteries. The life span of the batteries is such that you can charge them 500 times consistently.
Cool eh!
With features like:
Overcharge protection
Short circuit protection
Discharge protection
You can be sure that these batteries will certainly stand the test of time.
The construction of the battery is such that it consists of a special cathode material which can handle high temperature as well.
Dont forget that you actually get two batteries with this kit, which I would say is more than enough for your next trip!
Comes With Necessary Accessories:
Wondering about the accessories which come along with it?
You would be surprised to know that there are quite a few of them.
Along with the hunting light, you get three interchangeable LED modules. That's not all!
The other accessories include:
Aluminum mounting
Spare O-rings
Picatinny Rail Mount
Remote switch
Two batteries
Charger
Toolbox
User Manual
Universal Rapid Mount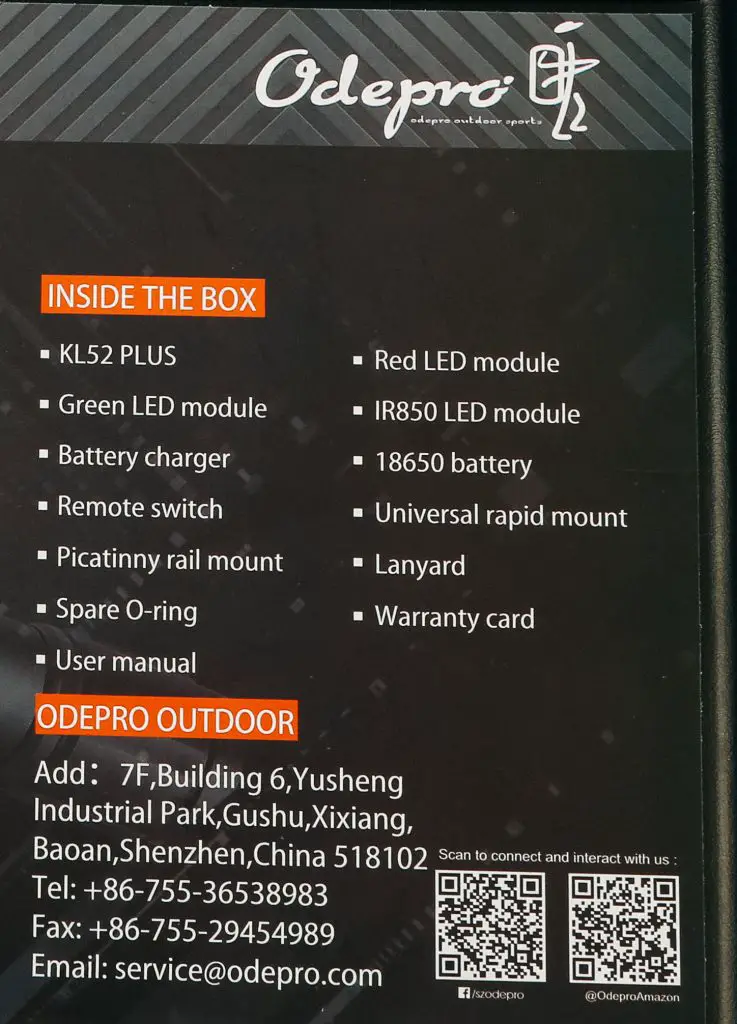 With so many accessories, you can be sure that you get an entire set along with this hunting flashlight.
It is what makes this hunting flashlight so easy to use.
With features like that, it is difficult to ignore the Odepro KL52Plus Zoomable Hunting Flashlight in favor of any other. I've been looking, and I simply can't find any other light kit to match it's build quality and features.
Before we share our pros and cons with you, we will answer one more question, which you might have about this hunting flashlight.
User Guide – Using the Interchangeable LED Modules While Hunting:
As you might have noticed, we mentioned above that it comes with three interchangeable bulbs. You might be wondering how to switch from one bulb to another?
It's really quite easy, just follow these steps
Unscrew the LED lens head.
Replace it with the new LED color model.
Screw the lens head back into position.
The process takes less than a minute. That is why changing the LED bulb is not going to be a problem.
>> Check Price & Availability <<
With all those questions answered, let us look at the pros and cons to get a balanced view.
Pro's and Cons:
Solid design that feels great in the hand
Excellent range
Includes accessories
Three interchangeable bulbs on offer
Easy to mount
Weather-resistant design
Excellent runtime
High illumination
Carry case is solid and well designed
um…. not really a 'con' but it would be nice to have a built-in 'quiet' button as part of the machined front end of the flashlight rather than just the removable 'remote switch'.
>> Check Price & Availability <<
Final Thoughts:
OK, so seriously, you could be forgiven for thinking I've been gushing a little too much about the Odepro KL52Plus Zoomable Hunting Flashlight.
The thing is that I really don't feel that my praise is undeserved.
It is a well-rounded hunting flashlight that really does excel over its competitors in almost every feature you can think of.
That is why, if you just want the best and most reliable hunting flashlight, you really should consider this option.