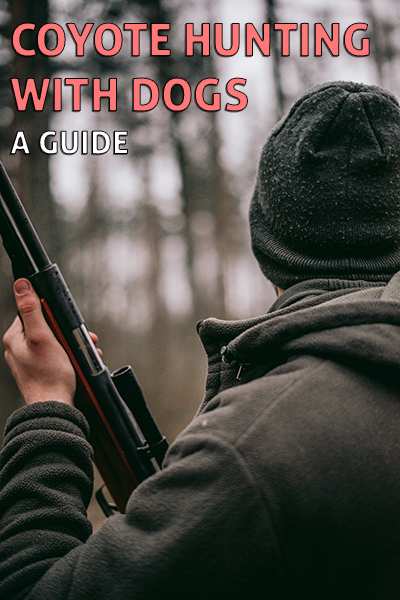 We hope you love the products we recommend and just so you know that as an Amazon Associate CoyoteHunting.org may earn from qualifying purchases.
Coyotes are crafty, intelligent creatures that pose a serious threat to livestock, pets, and humans.
Sheep and fowl are most commonly at risk of attack, concerns of attacks on both pets, and occasionally humans mean that keeping the coyote population in check is very important.
Coyotes, along with a small number of other wild animals are among those whose population grows along with the growth of human society. They travel in packs of 3-10, with an alpha male who leads.
Coyote hunting is a common practice in America. Coyote hunting with dogs is an essential part of tracking them down for both population control and sport.
Coyote Hunting with Dogs – A Guide
Step 1: Use a Collar
The decoy dog attracts the coyote's attention and returns to you with a coyote following it for you to take the shot. A dog that plays the decoy role could be fitted with the collar which buzzes thus signaling your dog to return to you. Attach a collar to your dog with a broad range of signals to allow you to signal your dog even when it is at a significant distance.
Step 2: Associate signal to mean recall
Allow the dog to go far ahead of you where there is no present game. Activate its collar and verbally call the dog until he can associate the signal to mean recall. Reward it with a scented rabbit pelt or toy.
Step 3: Come up with distractions
Slowly introduce hunting where there is a coyote or small game scent for following which is extra enticing. Signal the dog and when it comes back to you, reward it with plays and treats
Step 4: Introduce the Coyote
Give exposure to your dog for hunting coyotes. Bait a close coyote and allow the dog to get the Coyote within its sight. Give a signal to your dog to come back to you then shoot the coyote and allow the dog to approach the carcass as a treat.
Step 5: Practice on decoy as well as signal
Improve the range and exposure when you are hunting the coyotes. Bring your dog to various terrains, with the other dogs locating and scenting coyotes and signal the dog to come back with a coyote following to a shooting range.
Best dog breeds for Coyote Hunting
1. The American Staghound
This dog is a crossbreed between the Scottish deerhound and the greyhound. The American Staghound has precise eyesight as well as a great sense of smell, which make them an important companion when hunting coyotes or wolves. Their legs are long and are powerful, implying that they could run fast and posses' great stamina for keeping up with the coyotes.
2. Plott Hound
The Plot Hounds are famous for their skills in hunting. They were earlier used in hunting boars and are ideal for hunting down predators such as coyotes. Their bodies are great for hunting; for instance, their lean and muscular body enables them to overpower the small predators. Plot Hounds are fast and never shy away from fights.
3. Greyhound
When it comes to coyote hunting with dogs, you require a quick dog that runs for a lot of miles. The Greyhound can even do more than that. Greyhounds are skinny; however, they are strong and muscular enough to run for a plethora of miles. Besides their quick nature, they also possess eagle eyesight for identifying coyotes from afar.
4. Black mouth cur

The name of this dog originates from its black muzzle. This dog has a lot of stamina and energy for tracking and hunting the coyotes. This dog breed is more muscular and lean than other breeds making it the perfect partner for going outdoors to hunt coyotes.
Hunting Dog Training Collar comparison
1. SportDOG
This collar is ideal for waterfowl environments and has a Max-5 Realtree camo finish. It is also resistant to water and 25 feet submersible with the help of DryTek technology. Its batteries are also rechargeable and are made of lithium ion. You will even know the time for changing the battery thanks to the battery indicator.
Pros
Waterproof
12 months warranty
Rechargeable lithium-ion batteries that can last up to 70 hours
Remote accommodates about three dogs
Cons
Not ideal for dogs below 8 pounds
2. Garmin SportPRO
This collar features a fast turn dial, which requires one hand operation. It also has four training buttons for momentary and continuous stimulation, tone as well as vibration. The handheld buttons activate the vibration control and tone signal on your dog device. It also has beacon light for the low light situations and is visible even from 100 yards. The LED status allows a quick read on the battery percentage.
Pros
Can vibrate or beep before offering correction
Water resistant
Excellent battery life
You can utilize the unit on multiple dogs
Cons
Dog protection Vest Comparison
1. Browning Chest Protection Vest
The ideal way of keeping your dog highly safe and visible is using this vest. The vest offers a solid dose of the classic orange safety vest. It comprises of a rustle-free and lightweight fabric which is resistant to water. It also has the hook-then-loop flap on the top part with the adjustable straps which offers a comfortable and secure fit. It's reflective piping on the sides boosts visibility in the low-light situations.
Pros
Has adjustable straps
Neoprene offers a snug fit
Consists of a rustle-free and lightweight waterproof fabric
Cons
It could leave rub marks on your dog.
2. Browning Camo Dog hunting vest
This vest will perfectly fit any dog, and the neoprene quality is great. It will keep your dog warm and safe. It is also ideal for waterfowl environments. Cleaning this vest is also easy since you can wash it in the dryer and it will dry in less than ten minutes. Moreover, it has great stitching and sturdy Velcro to offer extra comfort.

Pros
Durable
Has a big Velcro area where necessary
Has great neoprene quality
The handle is beneficial
Cons
Summary
From the above information, you can make a decision on which is the best collar, best dog breed, and vest for a successful coyote hunting with dogs. Coyotes are dangerous animals; protect your dog by only using the best vests.