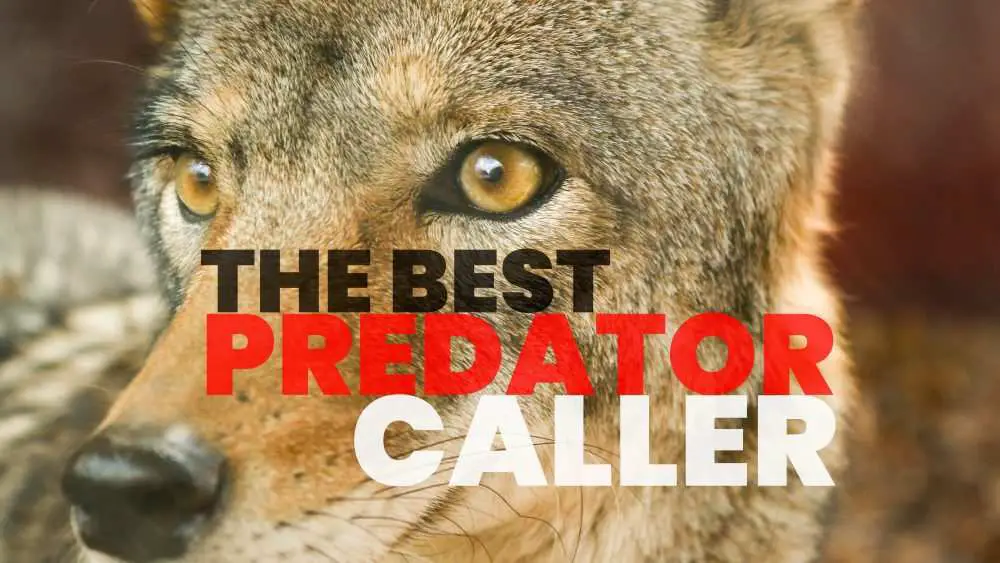 We hope you love the products we recommend and just so you know that as an Amazon Associate CoyoteHunting.org may earn from qualifying purchases.
---
I'm going to cut to the chase for you, and save you some time. We've done the research (you can check it out below) and believe that the best predator caller you can buy is…
…drumroll please…
WINNER – FOXPRO Inferno
>> Check Price and Availability <<
---
Have you found mouth calls frustrating, or cheap electronic calls a waste of time?
Finding the right predator caller is critical for a successful hunt.
If you want to skip the buyers guide and get straight to the reviews, just click the button below:
>> JUMP STRAIGHT TO THE REVIEWS <<
---
Electronic Predator Caller – Buyers Guide
A quality predator caller will help you produce sounds that lure in animals like coyotes and other predators. The sound produced by a predator caller can range from a bird or animal lower down the food chain to a similar animal making noise to mimic distress.
The idea is that if the noise is of another predator in distress they will come to see what is happening and possibly help the wounded animal.
If the sound of an animal Lower on the food chain the intention is that the predator will come out to hunt.
Of course, there is no bird or small animal there. Instead, you will be waiting not far away with your rifle ready for the kill.
However, you cannot get these results with just about any predator caller. It is essential to select the perfect one. We will explain in greater detail below.
Why is it so essential to have the right predator caller?
Predators like coyote and others are pretty cunning. They have keen hearing senses as well. You cannot fool them with a substandard predator caller.
You have to go with the electronic caller that has the most authentic sounds and is loud enough to be heard from a distance.
Additionally, you will need a predator caller that can produce multiple sounds. Not every predator is attracted to the sound of the same animal or bird.
What should you consider while buying a predator caller?
While comparing the different predator callers, the things which you should consider are:
Number of Sounds:
The caller should at least consist of 50 sounds. If the caller has additional storage space for storing more sounds, that is a huge positive.
Construction quality:
You will be using the predator caller in the rugged environment. Choosing one that can withstand wear and tear is always preferred. When that is the case, you should buy it.
Control mechanism:
The predator caller should come along with remote control. More importantly, the remote control should be easy to operate. When it meets both of these requirements, after that, you can go ahead and buy it.
Connectivity options:
Ideally, the predator caller should offer connectivity options like USB connectivity and Aux inputs. When that is the case, you can connect it with other devices to reprogram it. It provides you with complete control over the predator caller.
Comparing the predator callers on these parameters can help you choose the best one.
Now that you are well-aware of the factors to consider while buying a predator caller, we will share the top 4 options you can buy. To compile this list of top 4, we have spent countless hours researching numerous options. We will not only go into their features but also provide you with a holistic view by sharing the pros and cons. In the end, we will also share our top picks with you so that you can go with the best predator caller.
The 4 Best Predator Caller Reviews
#4 – Foxpro Hammerjack:
How about a predator caller that can produce 100 different sounds?
Yes, you read it right! – 100!
Additionally, the dual amplifier speaker system means that the sound output is on the higher side. There are a few other features that help it stand out.
Expandable capacity:
As if 100 sounds were not enough, the caller has a capacity of a total of 300 sounds. The built-in sounds are FoxPro sounds, which means that they are of high quality. You can feed additional sounds as well. Most of the animal vocalizations and distress sounds are already included. Due to this reason, attracting predators is easy.
Compact design:
When you're going out in the wild, you need portable and compact gear. This caller meets both of those requirements. The dimensions are 8" x 5.5" x 6". The weight is just 2.5lbs. Consequently, carrying it around is not going to be a problem.
Surround sound effect:
When you're in the wilderness, you do not know if the predators are in front of you or back. However, this caller takes care of that problem as well. It consists of a front horn speaker and a rear cone speaker. It propagates sound in both directions. Due to this reason, its effectiveness increases even more.
Simple control mechanism:
You can use the USB port to reprogram the sounds on it. It offers 3.5 MM auxiliary jack, 2 x 3.5 MM external speaker jacks, and the charging jack on offer as well. The multiple connectivity options certainly make it convenient to use. Moreover, with the help of remote control, controlling the sound output is easier than ever.
With a plethora of features available, it becomes difficult to ignore this predator caller.
Easy to operate
Consist of 100 different sounds
Expandable storage capacity
Compact design
Surround sound effect
---
#3 – Icotec 320:
>> Click to check Price & Availability <<
The key feature that Icotec promotes in this predator caller is that it can produce two sounds at the same time. Consequently, this makes luring in the coyotes somewhat easier.
There are more features as well, which help it stand out. We will go into the details of the same below.
Backlit Remote Control Buttons:
Often, you might have to use the predator caller in low light conditions or complete darkness. The backlit buttons of this predator caller come in handy during that. It ensures that you can use this caller in complete darkness.
Excellent Remote Controller Range:
The controller that comes with it is not only easy to operate but has an excellent range. The overall range is 300 yards. More importantly, it does not require a line of sight communication. Hence, you can operate it from any corner. The excellent range means that you can be at a safe distance and monitor the prey.
Realistic Decoy
It comes with fur and a bird skin-like material. The advantage of these is that when the predators arrive near the caller, they will come closer to inspect. It certainly provides you with more than enough time to catch the prey.
Range of Calls:
You not just get the natural calls of birds and animals but also their distress calls. Consequently, attracting predators is going to be easy due to the same.
The wide controller range and the ability to play two calls give you no reason to complain.
Can play two sounds at a time
Large controller range
Comes with a decoy
Easy to use
Various inbuilt calls on offer
Packaging could be improved
---
#2 – Icotec 300:
>> Click to check Price & Availability <<
Do you prefer a lightweight and compact predator caller?
If yes, this one fits that requirement. It has both these properties. Along with it, the remote range is pretty long. The low power consumption means that you need not worry about charging it again and again. It can attract bigger predators like coyotes as well. We will go into the features of this predator caller below to help you understand more about it.
Wide remote range:
The remote range is 300 yards. The advantage of such a high remote range is that you can operate it from a distance. So, monitoring the prey around becomes easy.
Dual Sound Feature
Simultaneously plays two audio sounds on top of each other.
With various inbuilt calls, you have the option to play two sounds at the same time. The advantage is that the likelihood of a predator getting attracted is higher.
Backlit Buttons:
You can easily use this predator caller during nighttime as well. It is possible because of the backlit buttons that come with it.
Decoy port:
Want to add a decoy to it?
Worry not! It has a port for the same. The decoy can help you lure in the predator.
The holistic set of features helps it outscore others.
Wide remote range
Simultaneously plays two audio calls
Backlit buttons on offer
Integrated decoy port
Compact and lightweight design
---
#1 – WINNER – Foxpro Inferno:
>> Check Price and Availability <<
Are you looking for an easy to operate predator caller?
If yes, this caller is sure to grab your attention. The controller has a backlit display, and buttons are easy to understand. When you look at the caller itself, it can store up to 200 sounds. It comes with inbuilt 75 songs. With different features on offer, it is indeed challenging to ignore predator caller. We will also highlight some other features below.
Expandable storage capacity:
The total storage capacity is 200 sounds. The advantage of the high storage capacity is that you can store distress sounds, regular sounds, and various other songs. Inbuilt, you get 75 audio sounds to play.
Easy to use controller:
Not only is the range of the controller pretty wide, but it comes along with its screen. Due to this reason, playing the right audio sounds is easier than ever. The seamless connectivity with the caller ensures that operating it is easy.
USB connectivity:
Want to customize the performance of the caller?
Worry not! There is a USB port for the same. It allows you to reprogram the caller.
Additionally, there is an auxiliary port through which you can link up the decoy. In terms of connectivity, there is no problem at all.
Heavy-duty construction:
The plastic casing means that the construction quality is excellent. More importantly, it is lightweight as well. It is the perfect combination of heavy-duty construction and exceptional portability.
Compact design:
The dimensions of this predator caller are just 7.5" x 3.75" x 5". The weight is 1.5 lbs. So, carrying with it with you wherever you go is easy.
The easy to control design, along with the sturdy construction, makes it the best predator caller you can go with.
Heavy-duty construction
Storage capacity for 200 songs
75 inbuilt sounds
Multiple connectivity options
Heavy-duty construction
Compact and lightweight design
Our Verdict:
Confused between these four options?
Worry not! We will recommend the best predator caller for you.
The Foxpro Inferno is the best predator caller, in our opinion. The excellent durability of this predator caller, along with the storage capacity for 200 songs, makes it a great choice. When you combine this with the compact but heavy-duty construction, you have nothing to complain about this predator caller.
It is time to make your hunting trips more effective and easier using these predator callers. Now, you can attract your prey to you rather than waiting for hours to catch a glimpse of one. With our carefully curated list of predator callers above, buying the right one is easier than ever.