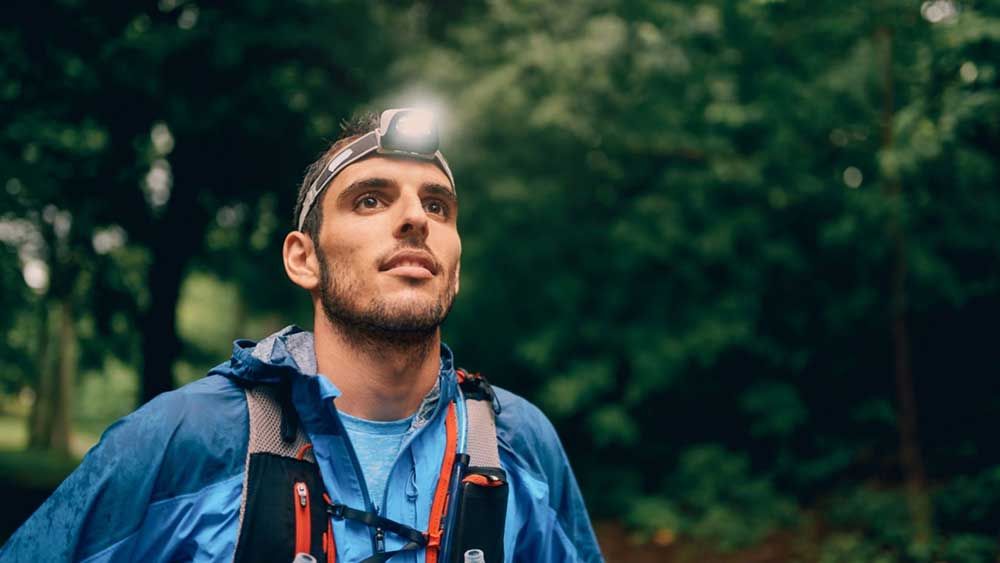 We hope you love the products we recommend and just so you know that as an Amazon Associate CoyoteHunting.org may earn from qualifying purchases.
When it comes to hunting a good headlamp can be the difference between being able to safely hunt at night and having to call the hunt off early. It can also make it harder for you to see where you're going, locate prey, signs, and other important information crucial to a successful hunt.
But what is the best headlamp for hunting?
If you're in a hurry, here is a comparison table to help you choose. Read on if you would like to read more detail about each headlamp.
| Image | Title | Buy |
| --- | --- | --- |
| Top | Streamlight 61304 ProTac HL Tactical LED Headlamp, Box Packaged, 635 Lumens | Check Price and Availability |
| | Black Diamond Storm 375 Waterproof All Purpose Headlamp | Check Price and Availability |
| | Professional LED Rechargeable Headlamps, Brightest 10000 Lumens - Adjustable | Check Price and Availability |
| | Headlamp 12000 Lumen Ultra Bright CREE LED Work Headlight | Check Price and Availability |
A low-quality or poorly chosen headlamp can have a disastrous effect on your ability to hunt effectively and can actually be very unsafe, putting you or other hunters at risk of serious injury.
The best way to avoid these issues is to find a headlamp that's right for the job and of great quality.
Thankfully there is a wide range of headlamps available, with many brands offering great quality illumination and other features to ensure you're able to hunt safely and effectively.
This wide array of options can make it difficult to find a lamp that's just right for you, however, particularly if you're new to hunting or haven't been in the market for a lamp for some time.
There are a lot of features to keep track of and this can make it hard to find a headlamp that meets all your needs and specifications. Finding a lamp with the right amount of illumination is crucial and depends on an array of factors, while other features such as straps, adjustability, alternative settings, and power supply can make a huge difference in how a headlamp performs in the field through various situations.
Various waterproofing levels, as well as brightness ratings, can make it difficult to be sure what hunting lamp is actually worth your time.
In this article, we're going to look at some of the best hunting headlamps available, many of which come with a great range of features and performance you can rely on.
Some of these headlamps will be a little more expensive than others, and there will be a range of differences between them from different brightness capabilities to different modes and waterproof levels as this is an area with many different demands and requirements, that these brands try to cater to in various proprietary ways.
I'm going to unpick what exactly makes these headlamps so great, as well as highlighting other important features and things to look out for in a great headlamp if you decide to search for one to suit your own particular needs.
The buyers guide at the bottom of this review will detail some of these key features and will also include some additional tips in the FAQ section where I've answered some frequently asked questions that crop up quite often with regards to hunting and hunting headlamps.
Now that you know exactly what to expect, let's shine a light on the headlamps themselves and see what exactly they're made of.
Best Headlamp for Hunting
---
#1 – Streamlight 61304 ProTac HL
Streamlight is a popular brand among head torches and the 61304 is a great option, perfect for various applications, particularly hunting. It's a very versatile torch with an excellent brightness of 635 lumens which reaches a range of 1804 meters, which is a very good range and further than a lot of hunters will comfortably shoot, especially at night.
The headband is comfortable and secure with good adjustability making it stable for active use and usable with various hats and garments.
The beam pattern of the light is variable and can be changed depending on how you want your light to act in the environment, and the light can also be adjusted easily using the tilting head which can make it easy to orient the light wherever you need it.
The different modes give various distances and usage times, with the lowest 20-lumen setting giving 36 hours of light and 33 meters of range, while the max setting gives just under 2 hours of light and 184 meters of range. This makes it versatile and great for in-camp use and hiking as well as taking a shot once you've tracked your prey with the gentler settings.

The only downside to this torch is that it uses white light only.
Lightweight and powerful, this is a perfect hunting light with great range and longevity and is a superb choice for beginners or experienced hunters.
Pros
Long-Lasting Lithium-Ion Batteries
Comfortable Headband
Variable beam patterns
635 Lumens
184 meters of illumination
Cons
No alternative color choices
---
#2 – Black Diamond Storm 375
Black Diamond – Storm 375 Waterproof Headlamp
POWER TAP: Technology allows instant transitioning between full and dimmed power

BRIGHTNESS MEMORY: Allows you to turn the light on and off at a chosen brightness without reverting back to full power

COMPACT: Low-profile design uses four AAA batteries

MULTIPLE SETTINGS: include full strength in proximity and distance modes, dimming, strobe, red, green and blue night-vision, and lock mode

WATERPROOF AND DUSTPROOF: Sealed housing withstands immersion over 1m for 30 minutes (IPX67)
Black Diamond is a popular choice for hunters and outdoor enthusiasts and it's easy to see why, as the Storm has a range of excellent features.

The Black Diamond Storm is a hardy option due to its waterproof and dust-proof IPX67 rating. You can have the peace of mind you need to use this light in all sorts of conditions.

It's compact and lightweight, easy to stow away and carry in your pockets, and very quick to slip on when needed. The brightness memory is a great addition and can help prevent startling prey when switching the light back on, and it has a variety of modes which include dim, strobe, red, green, and blue light to give you maximum options depending on what you're hunting and how noticeable you want to be. 
The 375-lumen rating is bright enough for most uses and while it isn't enough to take extremely long-range shots, it's certainly enough if used correctly and can easily help you follow trails and signs to set up a great chance to shoot.
The main drawback is the simple headband which is less secure than some others, however, it is easy to slip on and off quickly and without noise.
Pros
Waterproof and Dustproof
Compact design
Brightness memory
Various modes including dim, strobe, red, green, and blue light
375 Lumens
Cons
---
#3 – MIXILIN Rechargeable Headlamp
MIXILIN – Professional LED Rechargeable Headlamp – 10000 Lumens, IPX5 Waterproof.
10,000 High Lumens Super Bright Headlamp - This rechargeable headlamp uses advanced XHP70.2 LED chip. The Range is up to 440 yards (400m). It's 20 times brighter than ordinary incandescent lamp.

Durable Industrial Materials & USB Charging - Constructed from premium aluminum casing and plastic, light and stable.

4 Lighting Modes & Adjustable up to 90° - Choose between High - Medium - Low, and Strobe. The led headlamps can swivel it up and down 90°, rotating it to shine in almost any direction you need.

Lightweight - Weighing only 12.4oz and with elastic headband.

Three Year Warranty & 24-hour Customer Service

Shock-proof and Waterproof - the IPX5 waterproof headlamp is suitable for inclement weather conditions.
This offering from MIXLIN is an impressive option for those who want to get the maximum range out of their light, with a claimed 10000-lumen rating giving up to 400 meters of illumination which is an impressive distance and easily enough to take a shot at most hunting ranges.
The light is waterproof and has multiple modes suitable for low light use or taking a shot at night, and it also has a three-year warranty which is a sure sign of how confident MIXILIN is in the build quality and reliability of their craftsmanship.
The main downside is the light's slightly cumbersome weight and shape which can make it somewhat difficult to wear and remove in difficult conditions and a little uncomfortable compared to some more lightweight and manoeuvrable headlamps.
Pros 
Waterproof
10000 Lumens
400 Meter Range
Multiple Modes
Three Year Warranty
Cons
Heavier than some other headlights
---
Bushnell TRKR 325L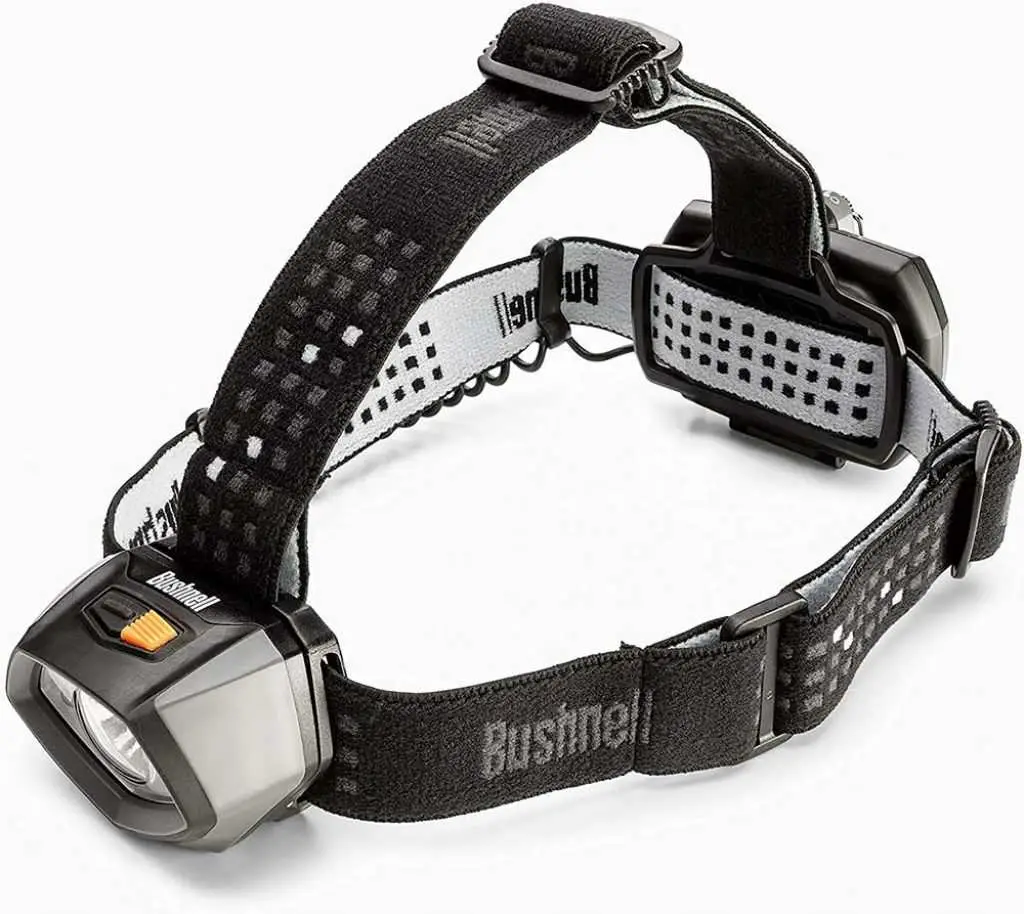 Bushnell is a fairly well-known name among hunters and the TRKR 325L does exactly what you'd expect a quality hunting light to do.

With 325 lumens it has the brightness to make hunting at night safe and effective, allowing you to easily follow signs and track while giving enough illumination to take a shot if the opportunity arises.
The waterproofing is IPX4 certified which makes it water-resistant but unlikely to survive submersion.

The straps are adjustable and comfortable, as well as secure which makes them great for use in rough terrain.

The added blood tracking mode is superb and is a great feature for bowhunters who may not kill on the first shot.
Pros
325 Lumens
Blood tracking mode
IPX4 weather-resistant
Comfortable and secure adjustable strap
3 AA batteries included
Cons
---
Alyattes 12000 Lumen Headlamp
Headlamp 12000 Lumen Ultra Bright CREE LED Work Headlight micro-USB Rechargeable, 4 Modes Head Lamp Waterproof Headlamps for Camping Hiking Hunting Hard Hat Workers
Preferred by those who want portability: Made from aluminum alloy and rubber, Weighs less than 12oz.

Four lighting Modes - Whether you prefer to use the lowest, most focused setting, the wider and splashier medium and high modes, or the bright emergency-ready strobe light, the movable led head light is prepared to adjust to a full range of lighting needs.

Waterproof for outdoor use - Makes use of a waterproof switch thats safe to use even when its raining.

Amazing long battery life - Due to its advanced CREE LED design. Powered by 2pc rechargeable batteries and quick charge.

LIFETIME WARRANTY - lifetime replacement warranty and satisfaction guarantee against defects in materials or workmanship; No question asked !
The brightest torch on the list, Alyattes claims this torch has 12000 lumens which is a seriously impressive amount of brightness capable of totally dousing a wide area in blinding light.

It comes with various modes, a quality strap, and is actually quite ergonomic despite its power. The lifetime warranty will give you peace of mind also.
The rechargeable batteries may not suit everyone and some may find this light a little too bright, but it fulfills its purpose very well for those who need a lot of light in the wild.
Pros
12000 Lumens
Rechargable
4 Light Modes
Lightweight
Lifetime Warranty
Quality strap
Cons
Not great for close up use
---
Best Headlamp for Hunting – Buyers Guide
There are a lot of things to consider when looking for a new headlamp, and these features can often make it difficult to actually decide what will work best for you and your needs. Whether you're out on a multi-day hunt or shooting varmint on your ranch, there's a hunting lamp best suited to the specific job at hand.

In this guide, I'm going to highlight some key things to keep in mind when looking at headlamps for hunting, to help you make an informed decision when you purchase, and to help you get the best possible hunting experience possible.
Brightness
The brightness of the hunting lamp is one of the most important initial things to consider, but it isn't as simple as immediately deciding to get the brightest headlamp you can find.

There are a range of reasons for this. The first thing to consider is how you plan to hunt and the ranges you intend to hunt at. If you're planning to hunt at relatively short range, you won't need as much brightness, for example.
It's also important to take your intended hunting environment into consideration, as an open prairie will require a different brightness to a heavily wooded area.
All of these factors will contribute to what headlamp is best for you, so it's important to keep this in mind before you make a final decision.
It's also important to note that brighter lamps will work well for distance work but even on low settings may be uncomfortable to use when doing precise work such as skinning or setting traps, depending on the various modes your lamp is capable of.
The brightness setting you select will also affect how long your batteries will last.
Weighing these up and making a calculated, balanced choice is the smartest way to get a lamp that will work brilliantly according to your needs.
Longevity
One thing you definitely don't want is for your headlamp to run out of power just as you're closing in on your prey. There's pretty much no good time for a headlamp to run out of power, so being aware of your capacity, limitations, and how your usage will affect your capacity are all key factors in deciding what type of lamp to get.

Rechargeable lamps are often a great choice if you're going to be moving between places where power is available, however some headlights that use disposable batteries are excellent for more uncertain environments and can still provide great performance in terms of use time and brightness.
Just be careful to not discard your batteries or lose them in the wild as this can severely affect the natural environment, poisoning plants or causing various hazards for other wildlife.
Comfort
A key feature of a good headlamp is how comfortable it is. After all, you'll need to be wearing it for long periods of time during difficult and often extremely arduous conditions, involving a lot of movement and changeable weather.
An uncomfortable headlamp will only make hunting that much more difficult, and it's hard enough as it is, pitting yourself against nature. 
The first thing to ensure is that your headlamp has an adjustable and secure head strap made from a sturdy and grippy material that will be able to withstand the movement hunting involved.
Ideally, it will be adjustable enough to fit your head and also be used with hats of varying shapes and sizes depending on prevailing weather conditions. 
Another component of comfort is whether the light itself can be dimmed effectively for close-quarters work or use around people, and whether or not it has alternative light colors available.
Additional nice touches such as brightness memory and easy manipulation of the light itself (easy to use buttons etc) are what set a good light apart from a great one, particularly when your fingers are cold and numb out in the wilderness.
Portability
Hunting is quite frequently a very active endeavor that requires large amounts of movement through difficult terrain and conditions.

A headlight that is portable and easily carried whether on or off the head is key to making your life as easy as possible while hunting.
Some headlights are simply too big to be effectively stowed, forcing you to wear them even after the batteries run dry, while others are very easy to slip into your pocket until you need them or for later use.
A relatively well-sized housing and flexibly strapping system are best for the most convenient portability, however, some styles of headlamps forgo these features entirely to pursue greater strength and power.
You need to decide what type of hunting you intend to use the lamp for to ensure you have the best possible gear for your aims.
Additional Features
Additional features are those extra things that set apart headlamps.
Features such as brightness memory, which means your head torch will turn on at the same brightness it was turned off at help prevent you from wasting power and starting animals, while dimming settings, beam pattern settings, and color settings can make a huge difference to the success of your hunt depending on the prey you intend to find.
Waterproofing and dust-proofing are also essential to prevent you from losing your light in difficult weather.
Frequently Asked Questions
Do headlamps spook deer?
There is some ongoing debate around whether or not lights affect or spook deer. Some say that as deer are color blind, they cannot see light and are therefore best hunting using different color light.
Others believe that deer are actually attracted to or at least unphased by light, as evidenced by their ignorance of cars on busy roads where they are frequently hit and killed.
The truth is that an unexpected stimulus will almost always spook prey regardless of whether it is a deer, coyote, or some other type of smaller varmint.

It's also fairly likely that if you're in range with your light that you are in scent range so it may be a simple fallacy.
The best hunters know when it's time to crank up the light and when it's best to turn them on to maximize their chances of success. 
What are the different colors for headlamps?
White light is the most common light for navigating and spotting sign/prey, however it's quite common for this light to startle prey.

Green and red lights are often used as they are much gentler in the dark and don't provide such a sudden flood of stark light and are far harder to see for animals.
Blue light and strobes are sometimes used to help locate signs, however, these are quite rare and specialized.
How many lumens are best for hunting?
It really depends on what you want to use the headlamp for.
Anywhere around 200 lumens is more than enough for simply navigating, reading maps, avoiding trips and rocks in the dark, or slipping on roots, however, it may not be enough to actually shoot or spot at anything more than 40 or 50 meters.
If you want to actually shoot at range using your headlamp, then naturally a higher lumen rating will provide a further beam of light.
That being said, some head torches use beam patterns to use their lower lumens more efficiently and effectively than other lights which rely on high brightness alone.