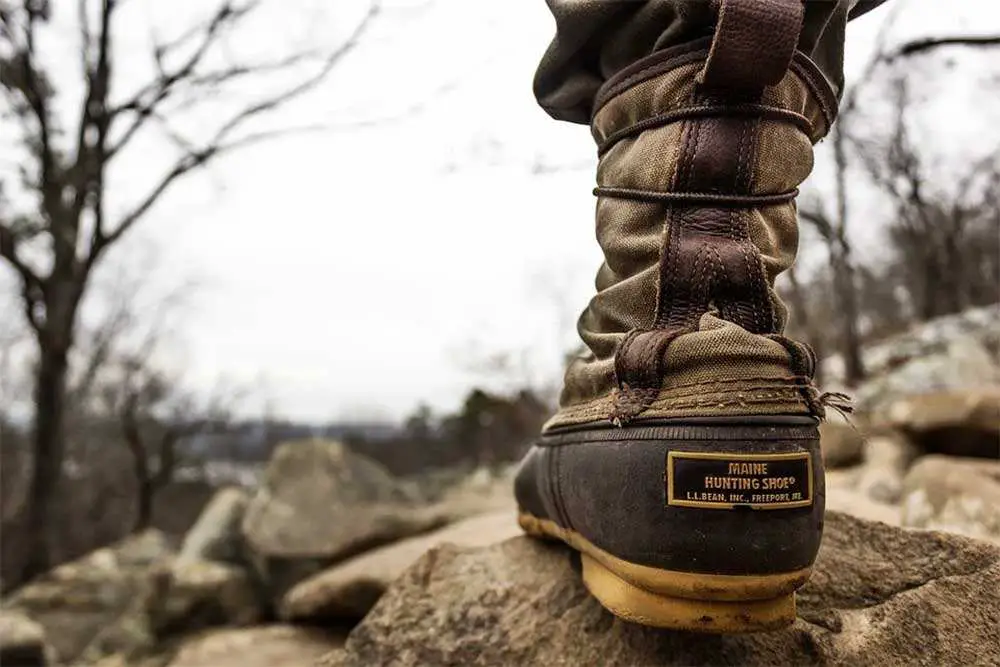 We hope you love the products we recommend and just so you know that as an Amazon Associate CoyoteHunting.org may earn from qualifying purchases.
For many, hunting is an enjoyable activity, however, it is also one that is physically very demanding.
Cold feet can ruin your hunting experience, possibly leaving you feeling miserable and uncomfortable for the duration of your outing. 
If you often hunt during cold weather, investing in insulated hunting boots is going to be beneficial. When wearing boots that are specifically intended for cold weather hunting, instead of getting distracted by the cold you will be able to focus on your prey. Whilst it is important to consider the weather conditions that you are likely to encounter during your hunt, you must also consider the terrain. 
Finding the best pair of cold weather hunting boots can seem like a challenge as there are so many styles to choose from. To make the task easier for you, I have selected and reviewed my top 5 picks of the best options below. I have also provided you with a handy buyer's guide that lists the factors and features of hunting boots that you should look out for when browsing through the selection available. 
Best Cold Weather Hunting Boots
Muck Boot Men's Arctic Pro Snow Boot
Muck Boot mens Arctic Pro Snow Boot, Mossy Oak Country, 11 US
8 mm neoprene provides comfort and flexibility, along with excellent waterproofing, shock absorption and heat retention properties; adjusts to your foot shape to resist blisters and chafing

Mucks warmest boot; fleece lining is soft, durable and provides exceptional warmth in extreme cold; 2 mm thermal foam under the footbed for extra warmth; comfort rated from -60 °F to 30 °F (-50 °C to -1 °C)

Stretch-fit Comfort Topline snugs calf to seal in warmth while keeping cold and debris out; double reinforcement in the instep, heel and Achilles area where you need it most

Lightweight EVA midsole for additional cushioning; super aggressive Bob-Tracker outsole is rugged and durable

High-grade rubber provides extra toughness and makes for a 100% waterproof hunting boot; 17-inch height for maximum protection; rear pull loops for easy on/off.Stretch-fit binding
Muck Boots incorporate many favorable features that are going to be appreciated by hunters during the colder weather. The Arctic Pro Snow Boots are made from neoprene with a rubber sole for added durability. The use of neoprene creates a comfortable boot that possesses waterproof qualities and also absorbs any shock from the ground below. 
A great thing about these boots is that they morph to the shape of your feet and because of this, you aren't likely to experience issues with blisters and chafing. In regards to durability, the aggressive and rugged outsole is going to resist potential damage caused by walking over uneven terrain. 
As for warmth, these snow boots are lined with fleece and 2 mm of thermal foam beneath the footbed. This combination of materials will ensure that your feet remain warm even when the temperatures are extremely cold. The snug topline will also seal to your legs to prevent the heat from escaping.
Pros
Rear pull loops – this feature makes the boots easy to put on and take off. 
Comfort – made from comfortable materials, these boots can be worn over prolonged periods without inflicting any discomfort on your feet.
Waterproof material – these are waterproof boots that are suitable for wear in poor weather conditions as they will refrain from collecting water. 
Cons
Sizing – unfortunately, these boots do not come in half sizes and some customers have reported that they run a little large.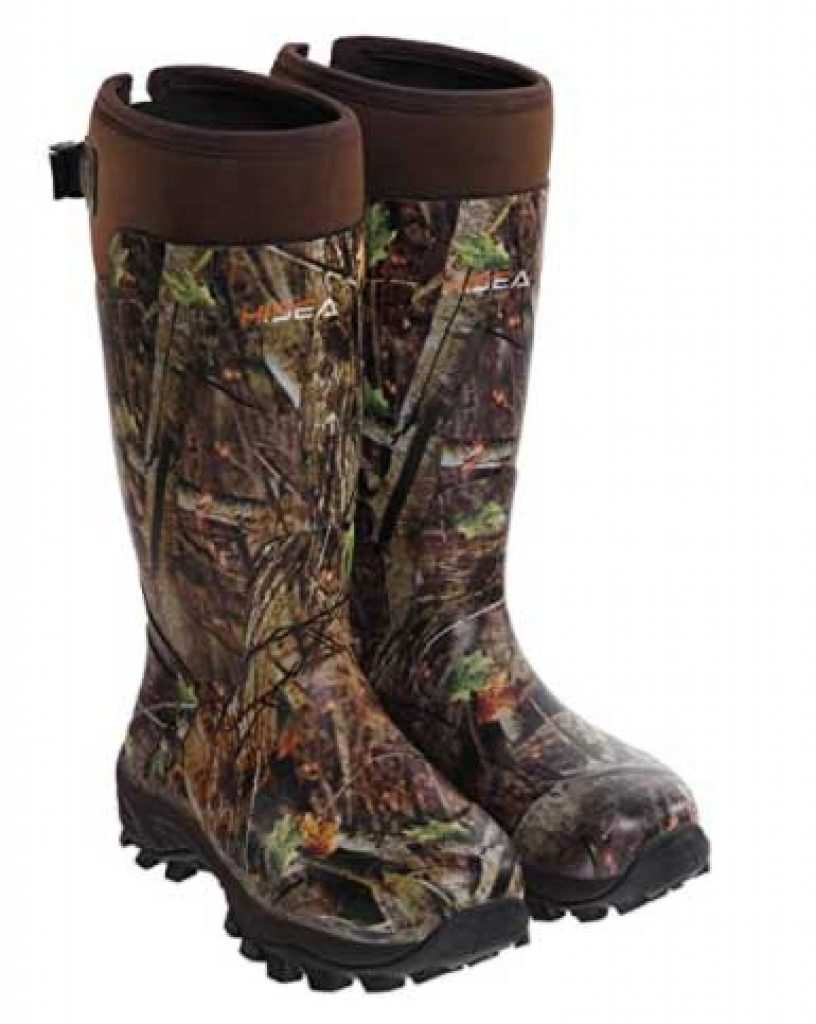 The HISEA Apollo Basic Hunting Boots provide an affordable alternative for those who are on a budget. Whilst the soles of these boots are made from thick rubber, the rest of the boots are made from durable neoprene which will protect your feet and keep them comfortable as you hunt. The use of this material also makes them waterproof so they are suitable for wear in adverse weather conditions. 
Thanks to the flex foamed bottoms and cushioned EVA midsoles these boots will deliver all day comfort. The chunky soles also provide you with the stability that is needed when walking over uneven ground. Aside from this, the heel and toe sections are reinforced for an additional layer of protection. 
The breathable air mesh lining allows the air to circulate and this will prevent your feet from overheating and sweating following intense wear. Those who suffer from allergies will be pleased to know that the material is hypoallergenic so it isn't going to trigger any adverse reactions. The sealed topline of these boots will retain the heat and will also prevent any debris from entering. 
Pros
Colors – There are 5 colors to choose from so you can select your preferred option.
Rubber Gusset – This accommodates individuals with different calf sizes as you can alter the tightness of the back. 
Durability – as these boots have been made from high quality, premium rubber they are tough enough to withstand frequent wear.
Cons
Quality – the clasp is a little flimsy and this can make it difficult to tighten the fit of the boots.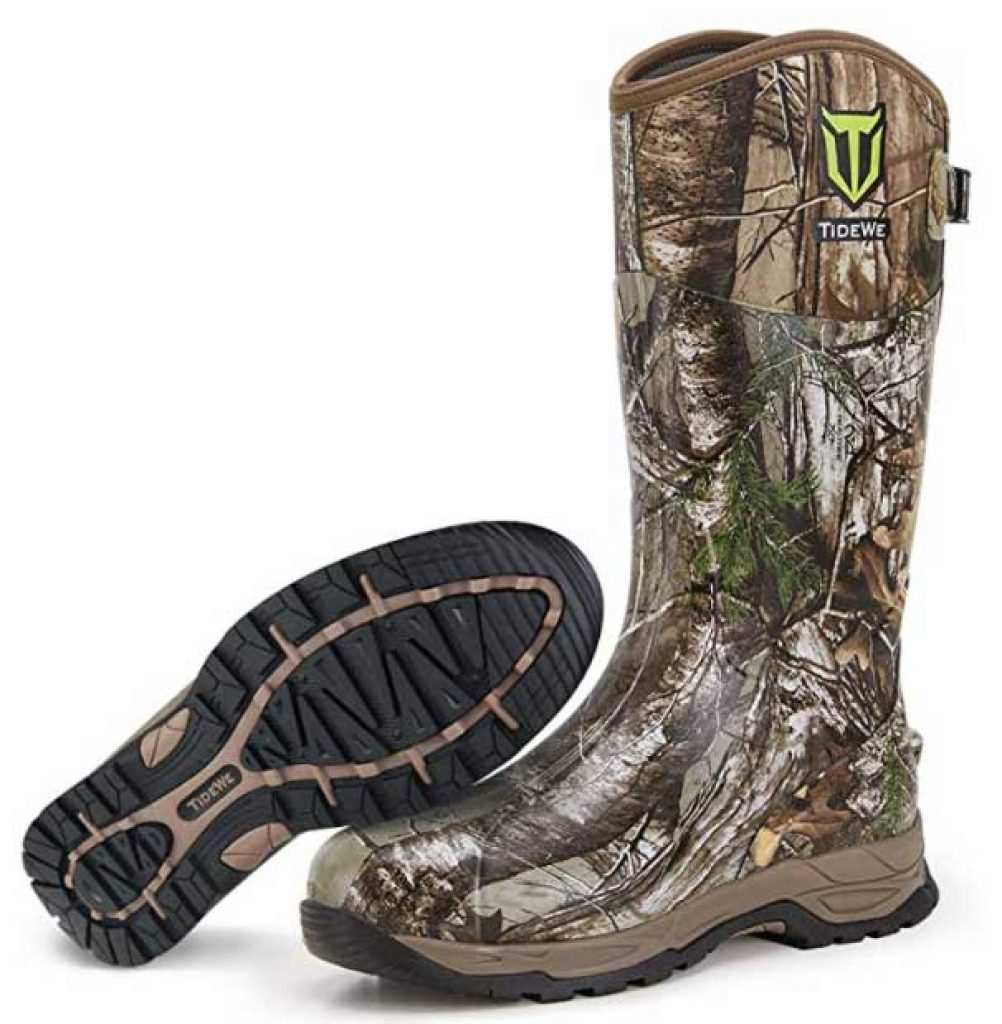 As a brand, TIDEWE is renowned for creating high quality products and these rubber hunting boots are no exception. They are 100% waterproof and will keep your feet warm and dry when hunting during cold and wet weather. Rubber and neoprene are the materials of choice. They are tough, durable, and will protect your feet from uneven terrain.
The air mesh material that has been used to line these boots will encourage the circulation of air so your feet aren't going to overheat. As expected, they are also insulated and will keep your feet warm as the temperatures begin to drop. 
Designed with a lightweight EVA midsole they are going to deliver long lasting comfort. These soles are also going to absorb shock, so you can walk along uneven terrain with ease, and they are also going to reduce the risk of an injury.
Pros
Heel protrusion – this feature is going to make the boots easier to take off after a long day hunting. 
Design – the camouflage patterning will keep you hidden as you embark on your hunt. 
Anti-slip outsole – will ensure that your feet remain stably positioned on the ground. 
Cons
The weight – Some customers have reported that these boots were heavier than they were expecting and this made them a little difficult to walk in.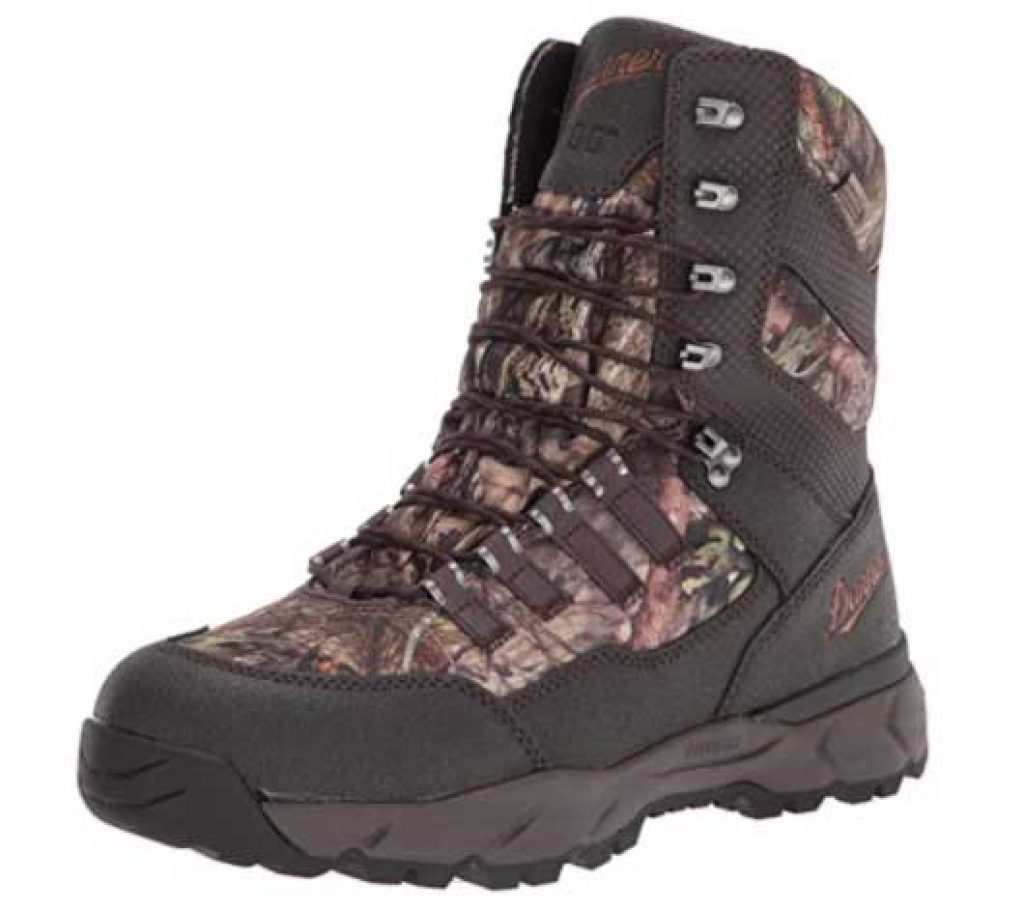 These Danner Men's Hunting shoes are designed with Plyolite cushioned midsoles which are going to feel light and comfortable on your feet. Aside from this, they are also extremely durable thanks to the custom vital outsole which will maintain a secure grip on a range of surfaces, whilst resisting damage. 
In regards to breathability, these shoes feature a floating tongue that will allow the air to circulate so that your feet don't sweat excessively. The exterior of these shoes is made from leather with textile fabric sections that have been strategically placed along the areas that are exposed to the most impact. The leather is also abrasion resistant and will cope well with different conditions. 
The inclusion of Thinsulate ultra insulating material is going to keep your feet warm as you hunt in colder temperatures. They are also water resistant and because of this, the quality isn't going to deteriorate when they are subjected to wear in poor weather conditions. 
Pros
Size availability – these boots come in a range of sizes from 7 to 16 and there are also half sizes available.
The fastening – using the lace fastenings you can alter the tightness of the boots. 
The weight – As these are lightweight shoes, they are going to be easy to walk in. 
Cons
The cost – these shoes retail within a higher price range so they may not be an ideal option for those on a budget.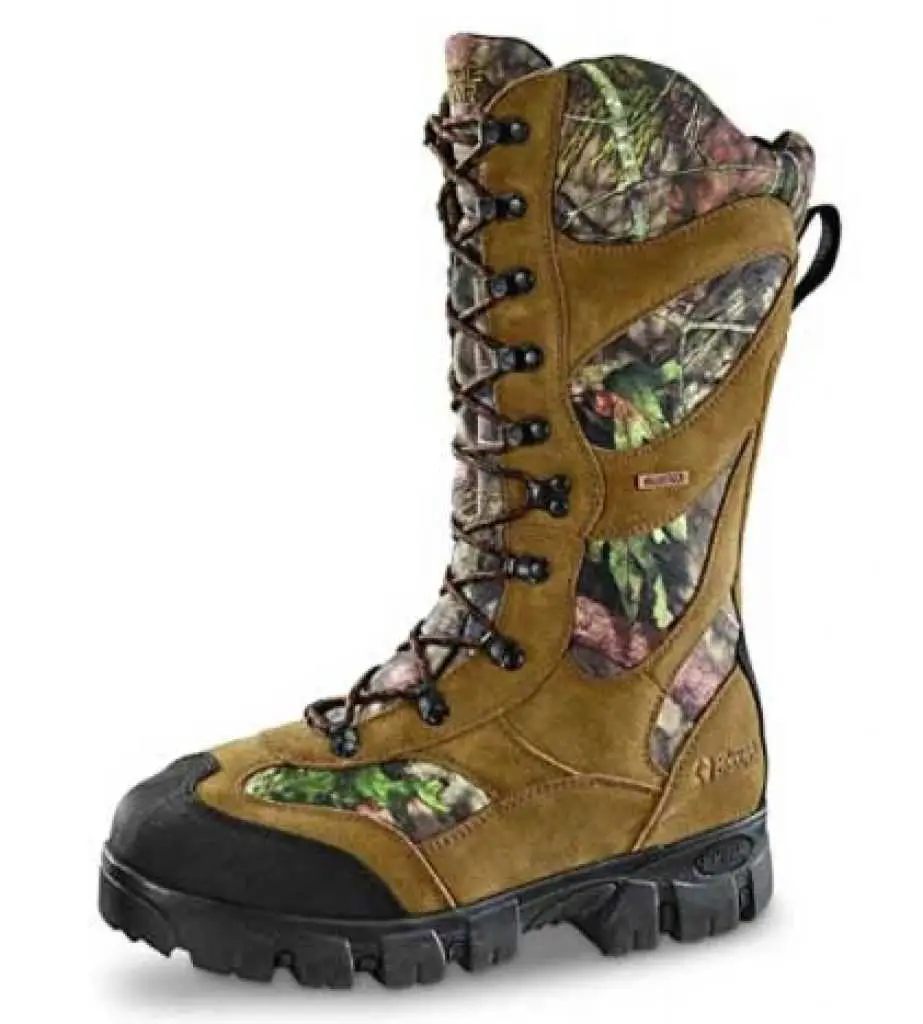 If you are looking for a comfortable pair of hunting boots, the Guide Gear Giant Timber Insulated Hunting Boots are a strong contender. They incorporate 1400 grams of Thinsulate insulation which will trap in the heat during colder hunting expeditions. The HydroGuard waterproof membrane is going to keep your feet dry during wet weather.
Comfort has been incorporated into the insoles of these hunting boots. The layer of cushioning is also going to add some bounce to your stride. Moreover, the mesh lining enhances the breathability of these boots by allowing the air to circulate rather than accumulate. The moisture wicking properties of this material will also prevent odors from building.
Your shins are going to be protected from debris and surrounding terrain courtesy of the padded tongue and collar. In regards to durability, these boots have been designed with a rubber toe and heel cap and this is going to delay any signs of wear and tear. 
Pros
Availability of sizes – there is an impressive range of sizes to choose from and this includes half sizes too.
Comfortable – the cushioning of these shoes is going to deliver all day comfort.  
The weight – the lightweight feel of these boots is going to make them easy to wear over different types of terrain. 
Cons
Waterproof properties – unfortunately, some customers have reported that these boots were not waterproof like they were expecting. 
Buyer's Guide
There are many different styles of hunting boots available and this can make it difficult to find the best option for your requirements. Of course, the priority is to find a pair that are going to keep your feet warm during colder weather. There are several factors that you will need to consider when searching through the variety of styles available and we have listed these below.
The size and fit
Your hunt will likely last for a lengthy period of time and because of this, it is important to invest in a pair of boots that fit. The majority of brands have a range of sizes available and this often includes wide options which cater to individuals with different sized and shaped feet. Sometimes the sizes may run big or small depending on the brand so to check whether this is the case with the boots that you have chosen, it is worth reading customer reviews regarding this issue beforehand. 
Ideally, your boots should fit rather snug around your ankles and instep, whilst allowing you to move your toes freely and comfortably. Whilst they should feel a little snug, your boots shouldn't be too tight as this is likely to inflict pain and discomfort on your feet. 
Insulation
If your boots are not insulated they are going to be ineffective in keeping your feet warm when the weather is cold. When discussing the insulation of your boots there are various degrees to be aware of. Some have an ultra thin layer of insulation which is ideal for those hunting in slightly colder climates. Others have a thick layer of insulation which is going to be favored by individuals who often hunt in extremely cold temperatures. To discover more about the temperature rating of your chosen boots, you will likely find the details that you require in the specifications or on the manufacturer's website.
Comfort
Comfort is paramount when it comes to hunting boots, especially for hunters who spend a lot of time on their feet rather than sitting and waiting for their prey to approach. You should look for boots that are cushioned and offer plenty of arch support. As such, they will allow you to walk for prolonged periods without your feet beginning to tire. Ideally, your boots should also absorb any shock from the ground below as this will keep your feet comfortable and protect them from injuries caused by impact from the ground below. A padded tongue is also a favorable feature as this will protect the front of your legs from debris from the ground. 
Durability
The exterior of your hunting boots should be made using durable materials that are hardy and effective in withstanding damage. They need to be tough enough to resist scratching and tearing caused by intense wear. Durable boots will also keep your feet secure and protected. 
The weight
Whilst the majority of boots are lightweight, others can feel particularly heavy. Of course, lightweight boots are going to be easier to wear and this is particularly important if you are likely to be trekking a distance. You want to avoid hunting boots that are going to weigh you down as you walk.
Waterproof properties
Ideally, your hunting boots should be waterproof as they will keep your feet dry and prevent any water from entering. Attempting to hunt with wet feet is likely to be quite distracting so boots that have been made using waterproof materials are going to ensure that this doesn't become an issue.
The Traction
Investing in hunting boots with good traction is crucial. The quality of the traction is going to be determined by the construction of the outsole and the lugs. If you are likely to be walking through terrain that may be slippery, the traction and grips of the soles should prevent you from falling. More often than not, you will find that the outsoles of hunting shoes are made from rubber as it is durable and sturdy. 
Stability
Your hunting boots should offer you plenty of support as you walk otherwise they are going to be ineffective in protecting your feet. Many are structured with chunky soles that provide you with stability as you walk over rough terrain. 
Breathability
Most hunting boots are designed with a mesh lining that encourages the circulation of air. This means that your feet will be able to breathe because the material will prevent any sweat from accumulating. Although you need your boots to keep your feet warm, the breathable materials will stop them from overheating.
The Fastening
Whilst some boots can be slipped on your feet, others are designed with laces. The style that you choose is going to be a matter of preference. In regards to hunting boots for cold weather conditions, laces are a favorable choice because they can be tightened to retain warmth.
Boots that are designed to slip on and off your feet tend to feature a snug topline that will seal to your legs to prevent the heat from escaping. Ideally, they should also incorporate a loop that you can use when trying to get them on and off your feet as it is going to make the task significantly easier.
The Color
The majority of hunting boots tend to be neutrally colored, i.e green, black, brown, or camo. Depending on what you are hunting the color of your boots will help to keep you disguised ensuring that you do not stand out. You will also find that some manufacturers create their boots in a range of colors so you have the opportunity to select your preferred option.
The Cost
Cold weather hunting boots can be quite a hefty expense with the majority of offerings retailing for more than $100. Of course, there are cheaper options available so do not be deterred as you will find many budget friendly options. It is important to set yourself a budget beforehand because you can then cater your search towards this. Remember that in many instances the quality of the boots will be reflected in the price at which they retail. 
Frequently Asked Questions
What is the best insulation for hunting boots?
One of the most popular materials that is used to insulate hunting boots is Thinsulate. The amount that is used will typically be detailed on the label of your boots and will be written in grams. 
Are rubber boots warmer than leather?
Although rubber boots may feel a little uncomfortable, they will generally keep your feet warmer and dryer than traditional boots that have been made from leather. If you are hunting in very cold weather, this is likely to be appreciated.