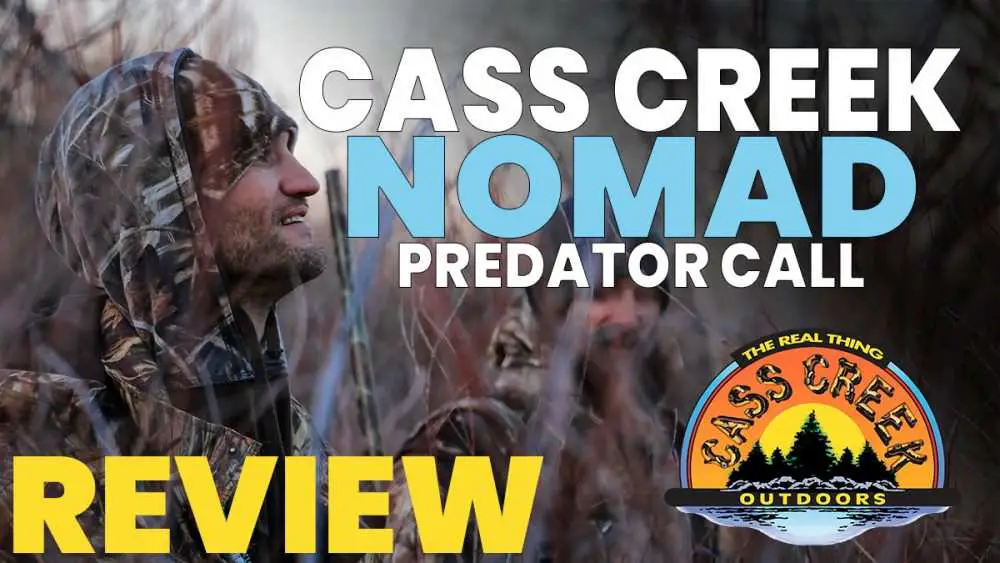 We hope you love the products we recommend and just so you know that as an Amazon Associate CoyoteHunting.org may earn from qualifying purchases.
If you've spent any time on this site, you'll know we like our predator calls…
The Cass Creek Nomad Predator Call is no exception – and I can straight up tell you that it packs a punch and is great value bang for buck! (see what I did there?)
Before we get into the Nomad Caller, let's take a minute to check out who Cass Creek is and what they offer to hunters like yourself.
Who are Cass Creek Anyway?
Cass Creek have been around since 2008 and offer a great selection of different:
hunting devices
apps
scents
decoys
amplifiers
other hunting accessories
On the 'Cass Creek' Facebook page, they highlight the fact that their calls can create the illusion of a 'moving sound' to increase the effectiveness of your calling.
They also explain the wide applications of their calls explaining:
"Our electronic game calls can be used to lure in deer, predators, coyote, fox, moose, goose, turkey, ducks, hogs and elk."

– Cass Creek
Cass Creek electronic calls incude these four series options:

The Nomad series contains one option at this stage and as you can see in the image above, it has an attractive dark-green camuflage look and a handly little remote.
Cass Creek Nomad Predator Call – Key Features:
Core Selection of Call Sounds:
So on first inspection I was a little surprised to find that there are only 5 call sound options to choose from.
However, they are high quality sounds, and do certainly get the job done.
They include:
Jack Rabbit – This is a lower pitched call that sounds like the animal is in distress – meaning that the tones are drawn out.
Cottontail Rabbit – This call is somewhat higher-pitched. It is almost a squeal which makes it more excited and urgent. It mimicks a cottontail rabbit that is in real terror knowing that a predator isn't far away.
Coyote Howl – This is a basic call designed as a communication to other coyotes to announce territories and will lure them to where you are.
Pup Yips – A yip is a sharp short tone from a coyote pup which attracts coyotes by drawing out the maternal instincts of the females of the species.
Fawn Distress – A stressed, drawn-out call used by young deer when separated from their mother.
>> CHECK AVAILABILITY & PRICE <<
Moving Sound Feature:
One of the key features that Cass Creek advertise with this electronic call is its capability to mimick the 'movement' of the sound coming from its speaker.
It seems that finally a smaller manufacturer producing electronic calls at a lower price point has realised that predators react more effectively to calls that 'move'.
Afterall, most real-life prey for these predators will be on the move most of the time – so it definetly is more realistic.
>> CHECK AVAILABILITY & PRICE <<
Powerful Remote:
The pocket sized remote control weighs only 8 grams and can activate your caller from up to 100 feet away.
It can even operate up to three of the Nomad Predator callers with a simply one hand operation design.
The remote has a handy loop on the top that allows you to attach it to a carrabina
Perfect Size:
The Cass Creek Nomad Predator Call is one of the lightest and easiest to use wireless remote predator callers available at the moment. You don't need to bring loads of heavy equipment with you to set out your caller – it's all housed in a small device that you can even attach to trees, brush, and fences.
There is even a handy clip that allows you to clip it to your belt for easy transport.
Also, the receivers attach to trees, brush, and fences. Clips onto your belt for easy transport. Also with a weather-resistant case.
Great Audio Quality & Volume:
The Nomad surprised me here due to its small size. It really does pack a punch! It's loud enough to be heard even when it's quite windy out.
The predator sounds that come with the Nomad are second-to-none and are digitally recorded and reproduced by world-famous naturalists.
90 Day Return & Exchange Policy:
As stated on their website, Cass Creek products are all covered by a 100% satisfaction guarantee in every way for 90 days from the purchase date.
They state that if you aren't completely satisfied with their product, all you need to do is return it to them within that time and you will receive a replacement.
Make sure you hang on to your receipt because if you don't have one, you will have to go through a refund verification process. So make sure you don't throw it in the bin with the packaging!
Great selection of sounds
90 Day Return & Exchange – No questions
Loud audio that can be heard over strong winds
High-quality audio from world-famous naturalists
Can be clipped onto trees and fences easily
Although the sounds are high quality, there's only 5 in total. It would be great to have more on the device
According to the Cass Creek Website, the rabbit calls on this caller have been reported to draw out rattlesnakes. Please always be aware and alert when using rabbit distress calls!
Conclusion
OK, so we've been pretty positive in most aspects of this compact little device, and you would be forgiven for thinking we know the guys over at Cass Creek. However, I know that if you give this little guy a go, you will most certainly be pleasantly surprised.