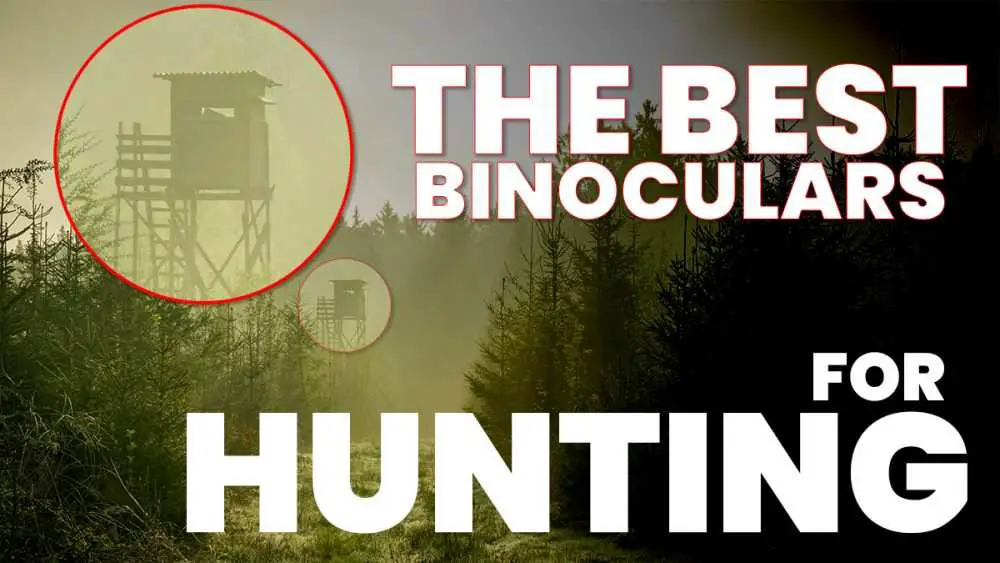 We hope you love the products we recommend and just so you know that as an Amazon Associate CoyoteHunting.org may earn from qualifying purchases.
The reality is that binoculars are literally your 'eyes' while hunting.
Without the right binoculars, its going to be challenging for you to sight your prey.
Hunting binoculars are known for their excellent viewing range and rugged construction.
However, not all binoculars are created equal.

-Me
If you want the right binoculars that meets your needs (and budget), you'll need to carefully weigh up some options to find the right fit for you.
There is literally no end to the number of options that exist to compare products, so I have compiled a list of things to consider before you hit that shiny "BUY" button. Read through the Buyers-Guide below to know exactly what the key features you need to look out for in a set of hunting binoculars.
Before I get to the buyers guide, here's the set of hunting binoculars that I always recommend to my hunting mates. I recommend these because they are great value and seriously over deliver for the price, though if you have a little more cash to splash, I would opt for my #2 recommendation (below).
WINNER – Best Binoculars for Hunting – 12×42 Powerful Binoculars with Clear Weak Light Vision – Lightweight
---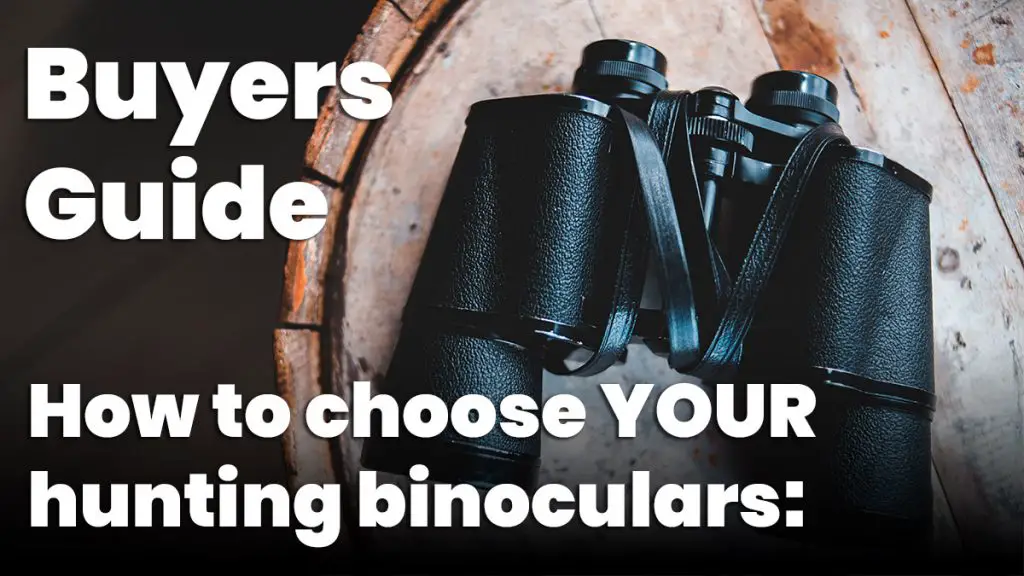 The Best Binoculars for Hunting Buyers Guide:
While comparing the binoculars for hunting, it is better to keep a few factors in mind. Once you compare them on these parameters, buying the best one becomes easy.
What key features should a buyer look for in a set of hunting binoculars?
The parameters that you should keep in mind are:
Eye relief:
The eye relief makes it comfortable for you to use the binoculars for hunting. The eye relief, if adjustable, can undoubtedly make it convenient to use the binoculars. Also, if it is longer, that is another advantage. You have to take this into account while buying binoculars for hunting.
Lens Coatings:
Instead of buying binoculars with a normal lens, you have to buy one with a multicoated lens. The multicoated lens allows more propagation of light. Consequently, it improves your viewing experience.
Optical Clarity:
The optical clarity is dependent on the size of the lens. The lens should be at least 30 MM. Not only that, but it should also offer at least 8X magnification. Only when that is the case, you can use those binoculars for hunting.
Water resistance:
You never know about the weather you will face while hunting. It can be the rainy season, or it can be snowing. You have to choose binoculars that can handle any kind of weather. Only when that is the case, using those binoculars becomes easy.
Weight:
The weight of the binoculars should not be higher than 2 lbs. In that case, taking them with you is easy. Moreover, if the weight is less than 2 lbs, using them shouldn't cause hand fatigue.
These are the four essential parameters on which you should compare the different binoculars to choose the best one. We will shed some light on the ideal focal length of the binoculars to understand more about them.
What is the ideal focal length for hunting binoculars?
The focal length of the hunting binoculars should be above 200 feet. The good news is that most hunting binoculars offer adjustable magnification levels, which allow you to adjust the focal length. Therefore, when going through the binoculars below, choosing the right one will not be difficult.
Now that you are aware of the key factors that make a great set of binoculars for hunting, it is time to look at the top 4 options available.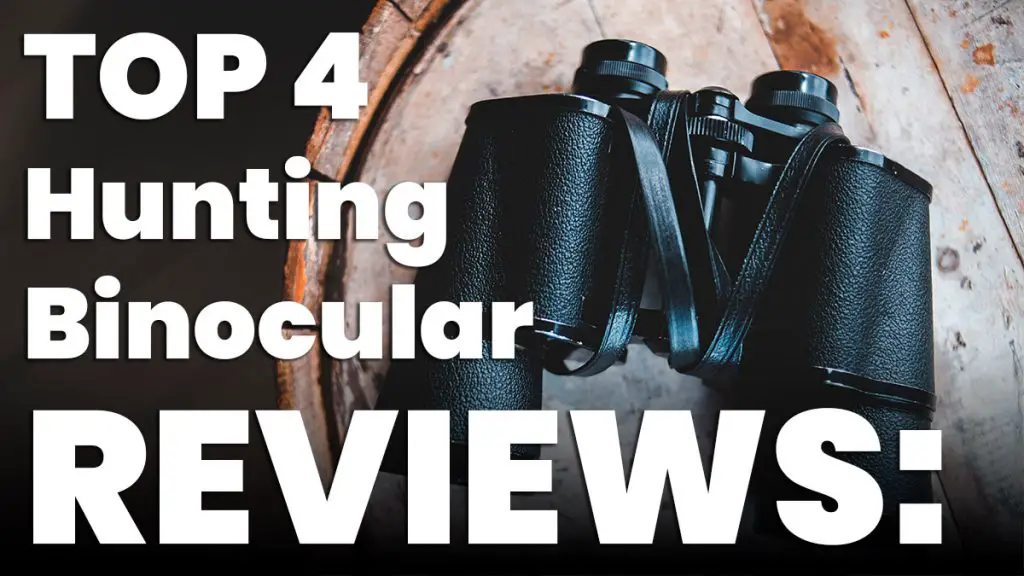 #4 – Leupold BX-2 Acadia 10x42mm Binocular – Best 10×42 Binoculars
The 100% waterproof and fog proof binoculars from Leupold we are speaking about now can undoubtedly stand the test of time. The multicoated lens ensures that the brightness is excellent. The 10X magnification feature is more than adequate when it comes to hunting. Besides these as well, these binoculars offer quite a few features highlighted below.
Heavy-duty Aluminum Construction:
The aluminum construction makes them weather resistant. Not only that, but the aluminum construction also makes them lightweight. Due to this reason, carrying them around is not going to be a problem.
Multicoated Lens:
The visibility which the binoculars provide will be dependent on the lens. These consist of fully coated lenses. There are multiple coats which ensure that the contrast and clarity which you get is excellent. Additionally, you get exceptional color fidelity as well.
Easy to Use Eye Relief:
With the help of twist-up eyecups, it is effortless for you to get a proper viewing experience. The generous eye relief makes it comfortable to use, as well.
Adapter Port:
When you're going for coyote hunting or other animals which are hard to find, you will have to use the binoculars for hours. In such a case, if the binoculars are compatible with the tripod, it can become comfortable for you to use it.
Fortunately, this one consists of a tripod adapter port. It means that you can install it quite easily. It certainly adds to the convenience.
The excellent visibility, rugged construction, and the easy to use design certainly makes these binoculars a great option.
Heavy-duty construction
Easy to use
Focus knob
Excellent clarity
Clarity on the edges can get soft at times
---
#3 – Binoculars on a Budget – Occer Binoculars:
The binoculars that we are speaking about now are 12 x 25. They offer low light night vision capability as well. Moreover, they are suitable for hunting, traveling, as well as sightseeing. The 12X magnification ensures that the clarity which you get is excellent. It has a unique field of view, which is another reason to go for it. You can view up to 1000 yards, which is another advantage of these binoculars. We will now highlight some other features to help you understand how you can use them.
Compact size:
The 15 MM large eyepieces do not disappoint. They provide you with a clear view. Moreover, the 15 MM large eyepieces ensure that at the edges as well, you can get proper clarity.
Lightweight design:
The weight of 0.45 lbs means that carrying these binoculars around is easy. These are incredibly portable. The binoculars design is such that they are perfect for one-hand use as well. It certainly frees you up for hunting.
Excellent coating on offer:
The binoculars have FMC broadband coating. The blue FMC coating ensures that clarity is not going to be a problem. Moreover, the coating certainly comes in handy during low light conditions as well. Consequently, you can use it throughout the year without any worry.
Heavy-duty construction:
When you look at the construction quality and material in use, it consists of ABS plastic. The high durability of ABS plastic means that you can use them day in and day out without worry.
The nonslip rubber armor provides you with a proper grip and also makes it shock-proof. It is water-resistant due to the same. Thus, when you look at the construction quality, you can be sure that it will not disappoint.
The rugged construction, FMC broadband coating on the other features, certainly helps them stand out.
Rugged construction
Night vision capability on offer
Waterproof construction
Compact size
---
#2 – Best Binoculars for Hunting:
The 10 x 42 binoculars which we are speaking about now have 42 MM objective lens. The 10X magnification ensures that you get excellent clarity. The sleek and compact design allows you to carry it with you wherever you go. The multi-position eyecups certainly provide you with proper comfort while using them. There are other features as well, which we will highlight below.
Sleek design:
When you look at the construction, it consists of a sleek and hinge based design. The rubber armor ensures that you can use it easily. You need not worry about nonslip grip. Moreover, with thumb indents, you can grip it easily and quickly.
Efficient Lens:
The 42 MM objective lens provides you with adequate clarity. With the help of 10X magnification, it is easy to view your prey. The optical quality and durability of the lens are excellent. The multicoated lens design means that the light which it transmits is excellent. The high light output ensures that the images are brighter. You can identify your target in low light conditions as well.
Adjustable Eye Relief:
The eye relief will determine the comfort which you have while using these binoculars. The adjustability aids customization of the binoculars according to your requirement. You can adjust them at multiple positions. There is a right eye diopter on offer, which ensures that you can choose between different focal differences.
Argon purged design:
The argon purging ensures that the colors are weather resistant. You get proper visibility irrespective of fog or moisture outside. The rubber armor design ensures that it is waterproof. The argon purged design certainly helps these binoculars stand out.
If you're looking for fully weather-resistant binoculars for hunting, you can go with this option.
Weather-proof and fog-proof design
The multicoated lens on offer
Sleek design
Adjustable eyecups
Value for money proposition
• Packaging can be better
---
#1 – BEST Value Binoculars for Hunting:
Are you looking for binoculars with a higher magnification level?
If yes, this one with the magnification level of 12X is a perfect choice. Not only that, but the 42 MM lens also provides you with a wide field of view. Moreover, the weight of just 1.1 lbs ensures that using these binoculars is quite easy. These binoculars are suitable not just for hunting but also for birdwatching, sports, and various other tasks. The lenses are such that they can help you in low light conditions as well. Some of the other features on offer include:
Large field of view:
The 42 MM objective lens provides you with a large field of view. You can view up to 1000 yards. Also, it allows you to see clear up to 650 feet. The 12X magnification process helps you with the same.
Large Eyepiece:
The large eyepiece of 18 MM ensures that it is quite comfortable to use. Also, it provides you with a clear picture.
Multicoated lens:
The multicoated lens certainly increases the amount of light that passes through it. This feature comes in handy when using it after sunset.
Includes accessories:
Along with these binoculars for hunting, you get a carrying case, lens protection cover, cleaning cloth, and the neck strap. You also get an eyepiece. With all these accessories, it is easy for you to use these binoculars for hunting.
Heavy-duty construction:
The rubber armor ensures that you get an excellent grip. The rubber armor does not increase the weight of the binoculars, which means that the weight is just 1.1 lbs. The high shock resistance is also because of the rubber armor. The anti-slip grip design means that holding the binoculars is not going to be a problem.
With these features, it becomes tough to ignore these binoculars in favor of any other.
Heavy-duty construction
Suitable for lowlight viewing
Includes accessories
Lightweight design
Shock-proof construction
12X magnification
The neck strap could be a little longer
---
In Summary
When looking to buy the best binoculars for hunting, these are the four options to consider. You can even refer to the buying guide above to choose between these four options. Instead of spending hours trying to compare the different binoculars for hunting, you need to just go through our list to buy the best one.