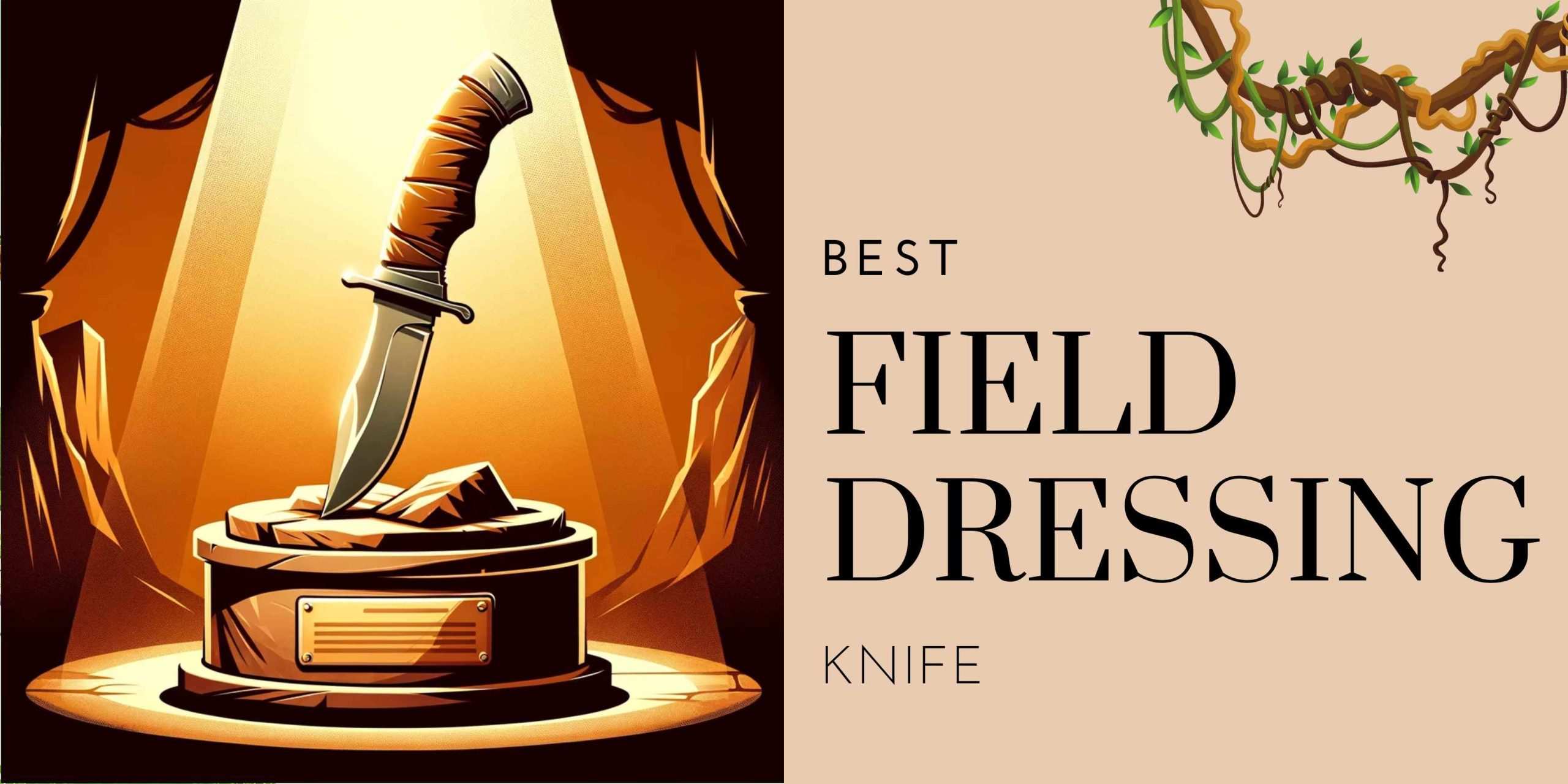 We hope you love the products we recommend and just so you know that as an Amazon Associate CoyoteHunting.org may earn from qualifying purchases.
A field dressing knife is essential for hunters, offering precision and durability.
When I'm out hunting, my knife is my go-to tool right after a successful hunt. It's all about quickly and cleanly gutting and skinning. I use it to carefully remove the internal organs, which is crucial for keeping the meat fresh and safe to eat.
The design of these knives – sharp, durable, and easy to handle – really helps in making precise cuts and avoiding any mess. Essentially, it's about getting the meat processed efficiently out in the field, so it stays in top condition until I can cook it or take it for further processing.
Table of Contents
How I Chose the Best Knives for Field Dressing
I judged the hunting knives effectiveness by focusing on several key features:
Blade Quality: A sharp, robust, often fixed blade is ideal for detailed tasks like gutting and skinning.
Blade Length: It must balance ease of maneuverability with the ability to handle larger game, a specialty of brands like Buck Knives.
Overall Design: The knife should be easy to handle, maintain, and carry in the field.
Versatility: Some hunters prefer a comprehensive knife set, while others opt for a single, dependable knife.
A good field dressing knife is an extension of the hunter's hand, blending precision, durability, and comfort. It's crucial for efficient and humane field dressing in various outdoor scenarios.
---
Top Field Dressing Knife – Our Top Gutting Blade
In my experience with the Benchmade Flyway, it stands out for a field dress blade. The full tang, fixed blade is durable and accurate, important for this task. Its CPM-154 metal keeps sharp and fights rust, which I've found helpful outdoors. It's lightweight, so it's easy on the hands, and the grip works well in different conditions.
Benchmade's LifeSharp maintenance service is a nice bonus for keeping it in shape.
For practical, reliable field dressing, the Flyway has been my go-to knife.
---

In the following section, you'll discover a variety of dressing knives, each carefully selected for its unique attributes. Every knife is tailored to meet specific needs and preferences, ensuring there's a perfect match for every hunter and situation.
Best Hunting Knife Overall: Benchmade Flyway
Best Dual Tool Knife: Browning Game Reaper T-Handle Saw
Best EDC (Every Day Carry) Hunting Knife: Buck 110 Slim
Best Replaceable Blade: Outdoor Edge RazorPro L (RazorLite)
Most Durable Gutting Knife: Montana Knife Co. Blackfoot 2.0
---
Best Hunting Blade Knife Overall
Benchmade Flyway: The Top Choice for All-Around Hunting Knife
Craftsmanship and Features of the Benchmade Flyway
As I handle the Benchmade Flyway, I'm immediately struck by its compact design. With an overall length of just 6.96 inches, it fits comfortably in my hand, making it perfect for detailed tasks. The heart of this knife is its blade, crafted from the renowned CPM-154 metal. This choice of material speaks volumes about its durability and resilience. It's not just resistant to corrosion but also maintains a sharp edge over prolonged use. That's why I rate it one of the best knives in our list.
The blade, at a modest 0.09 inches in thickness and 2.70 inches in length, is an exercise in precision engineering. It's substantial enough for effective cutting yet avoids being bulky or unwieldy. Weighing in at only 2.10 ounces, the Flyway is surprisingly light, making handling it a breeze and reducing fatigue even when I use it for extended periods.
One of my favorite features is the orange G10 handle. It's not just visually appealing but also provides a firm, comfortable grip. This is crucial for safety and precision, especially when I'm focusing on detailed tasks. I find its versatility to be a significant advantage. Whether I'm in the kitchen or out in the field, the scalpel-like sharpness of the Flyway is perfect for tasks that require meticulous attention. It's a tool that meets my needs both as a hunter and a chef, embodying the essence of versatility and precision."
Pros
Precise and Sharp: The knife's scalpel-like sharpness allows for precise cuts, making it ideal for detailed work.
Ergonomic Handle: The G10 handle ensures a comfortable and secure grip, reducing hand fatigue during prolonged use.
Light and Portable: Its lightweight design makes it an excellent choice for hunters and chefs who value portability.
Durable Blade Material: CPM-154 metal ensures long-term durability and ease of maintenance.
Multi-Purpose Use: Equally useful in the field and kitchen, it's a versatile tool for various cutting tasks.
Cons
Size Limitation: The smaller size might be less suitable for larger animals or more extensive cutting tasks.
Price: The Flyway might be on the higher end of the price spectrum for some users.
Carry System: Lack of a dedicated carry system could be a drawback for those who prefer a ready-to-use sheath or clip.
---
Best Dual Tool Knife
Browning Game Reaper T-Handle Saw: Versatility at Its Best
Examining the Dual Tool Features of the Browning Game Reaper
At first glance, the Browning Game Reaper Saw stands out as a versatile and essential tool for any hunter. Its innovative design combines a bone saw and a guthook, making it a two-in-one solution for efficiently field dressing and gutting big game.
The tool's T-shaped handle, crafted from composite G-10 material and featuring machined grooves, ensures a secure and comfortable grip. This design minimizes slip risks, crucial when handling game.
The robustness of the Game Reaper is evident in its knife blade, constructed from 440C stainless steel, known for its durability and wear resistance. The full tang fixed blade design adds to its strength, making it capable of handling the demanding tasks of cutting through bone and skin with ease.
Despite its sturdy build, the tool is surprisingly lightweight and compact, making it a convenient addition to any hunting gear. Accompanied by a practical nylon belt sheath, the Browning Game Reaper is not only effective but also easy to carry and ready for action whenever needed.
Pros
Two-in-One Tool: Combines a game saw and guthook, enhancing its utility as a field dress knife and gutting.
Ergonomic Handle Design: The T-shaped contour molded G-10 handle with machined grooves provides a comfortable and secure grip.
Durable Material: Made with 440C stainless steel, it promises longevity and reliability.
Easy to Carry: Comes with a nylon belt sheath, ensuring the tool is always within reach.
Lightweight and Compact: Its dimensions (5.88 X 11.25 X 5.95 inches) and weight (0.44 lbs) make it easy to pack and transport.
Cons
Specialized Function: May not be as versatile for those who prefer traditional single-function hunting knives.
Origin: Manufactured in China, which might be a concern for those preferring locally made tools.
---
Best EDC (Every Day Carry) Hunting Knife: Buck 110 Slim
Buck 110 Slim: The Ultimate EDC Hunting Knife
Why the Buck 110 Slim is Ideal for Everyday Carry Knives
Carrying the Buck 110 Slim daily, I've found it to be an exemplary EDC hunting knife. Its design strikes a perfect balance between utility and portability.
The knife's slim profile fits easily in my pocket, making it conveniently accessible for everyday tasks. Constructed with 420HC stainless steel, the blade knives maintains its sharpness through repeated use, proving to be reliable whether I'm out in the field or handling everyday chores.
The Buck 110 Slim features a clip blade, ideal for detailed and precise cuts. It's just the right size for an EDC, neither too bulky to carry nor too small to be ineffective.
The nylon handle not only gives the knife a modern look but also ensures a sturdy grip, enhancing safety and control during use. Additionally, the knife's lightweight design, at just 2.8 ounces, means I hardly notice it in my pocket, yet it's always there when I need it.
Pros
Slim and Portable: Easily fits in a pocket, ideal for everyday carry.
Sharp and Durable Blade: 420HC stainless steel ensures long-lasting sharpness.
Ergonomic Handle: Nylon handle provides a comfortable and secure grip.
Lightweight: At only 2.8 ounces, it's convenient to carry without being cumbersome.
One-Handed Opening: Designed for quick and easy access.
Cons
Size Limitations: May not be suitable for larger or more rugged tasks.
Clip Design: While versatile, it may not be preferred by all users for specific hunting tasks.
In my experience, the Buck 110 Slim has proven to be an invaluable tool in my EDC lineup. Its blend of size, weight, and functionality makes it an ideal choice for both hunters and anyone needing a reliable knife for daily tasks. Its durability and ease of use further establish it as a top choice for an EDC hunting knife.
---
Best Replaceable Blade: Outdoor Edge RazorPro L (RazorLite)
Outdoor Edge RazorPro L (RazorLite): Latest Innovation in Replaceable Blades
Exploring the Benefits of the Outdoor Edge RazorPro L
Using the Outdoor Edge RazorPro L (RazorLite) has been a revelation in terms of convenience and efficiency. This hunting knife stands out for its innovative replaceable blade system, a feature that has significantly improved my hunting expeditions. The ability to quickly swap out a dull blade for a sharp one without needing to pause for sharpening is incredibly useful.
The RazorPro L (RazorLite) comes equipped with Japanese 420J2 stainless steel blades, known for their sharpness and durability.
These knives ensure precise cuts, which is crucial when skinning or dressing game. The knife's design includes a rubberized TPR handle with stainless steel liners, offering a secure and comfortable grip, even in wet conditions.
One of the most impressive aspects of this knife is its dual-blade design. In addition to the standard replaceable blades, it features a gutting blade, making it doubly effective in the field.
The knife's overall length of 8 inches and a blade length of 3.5 inches make it substantial enough for various tasks, yet it remains easy to handle and maneuver.
Pros
Quick Blade Replacement: Keeps the knife ready for action at all times.
Sharp and Durable Blades: Japanese 420J2 stainless steel ensures longevity and precision.
Ergonomic Handle: Rubberized TPR provides a comfortable, non-slip grip.
Dual-Blade Design: Offers versatility with both a standard and a gutting blade.
Balanced Size: Good length for a range of tasks without being unwieldy.
Cons
Blade Dependence: Requires carrying extra blades for replacements.
Specialized Use: The additional gutting blade might not be necessary for all users.
---
Most Durable Gutting Knife: Montana Knife Co. Blackfoot 2.0
Montana Knife Co. Blackfoot 2.0: Unmatched Durability
The Reliability of Montana Knife Co. Blackfoot 2.0 for Gutting
My experience with the Montana Knife Co. Blackfoot 2.0 has solidified its position as the most durable gutting knife in my collection.
This knife exemplifies resilience and reliability, particularly when it comes to the demanding task of gutting. The Blackfoot 2.0, crafted from 52100 ball bearing metal, demonstrates an exceptional balance of toughness and edge retention, essential qualities for any gutting knife.
The blade's design is a drop-point, which I find to be ideally suited for the precision required in gutting.
The 3.5-inch blade length is perfectly proportioned for control and efficiency, making the task of gutting less cumbersome. Additionally, the full tang construction ensures that the knife can withstand significant stress without bending or breaking.
The G-10 handle of the Blackfoot 2.0 is another feature that stands out. It offers a solid and comfortable grip, which is crucial when dealing with slippery conditions often encountered during gutting.
The knife's total length of 7.75 inches provides excellent leverage, enhancing my control over the blade during use.
Pros
Robust Blade Material: 52100 ball bearing metal offers superior toughness.
Ideal Blade Design: Drop-point blade is perfect for precise gutting tasks.
Full Tang Construction: Enhances durability and handling stability.
Ergonomic Handle: G-10 material provides a secure and comfortable grip.
Proper Size for Control: Length and weight are balanced for effective use.
Cons
Specialized Usage: Primarily designed for gutting, it may not be as versatile for other tasks.
Price Point: As a high-quality knife, it might be an investment compared to standard options.
In my hands, the Montana Knife Co. Blackfoot 2.0 has proven to be an invaluable tool. Its durability, combined with its thoughtful design, makes it an excellent choice for hunters who need a reliable knife that can withstand the rigors of gutting. The Blackfoot 2.0 is more than just a knife; it's a dependable partner in the field.
---
Field Dressing Knives Buyers guide – Field Dress with the Best Knife Set for You!
Choosing the right field dressing knife is essential for any hunter – but especially for those who want to be a pro. The appropriate knife not only makes the process of field dressing quicker and safer, but it also ensures that you get the best out of your game while you're outdoor.
This guide will help you understand the crucial aspects of selecting the ideal knife or knife set for your hunting needs.
Understanding Field Dressing Knives
Types of Knives: There are several types of knives crucial for field dressing, including fixed blades for their reliability, folding knives for their portability, specialized gutting knives, and knives with replaceable blades for continuous sharpness.
Blade Design and Material: Blade design affects the knife's utility. Drop-point blades are versatile, while clip-point blades offer more precision. Materials like stainless steel and carbon steel differ in edge retention and maintenance needs.
Key Features of Good Blades to Consider
Blade Sharpness and Durability: A sharp, durable blade is crucial. It should retain its edge through multiple uses, reducing the need for frequent sharpening.
Handle Comfort and Grip: Ergonomic handles are vital for control and safety, especially in slippery conditions. Materials like rubber and textured polymers enhance grip.
Size and Weight: The knife should be easy to handle and carry. A heavy knife might be more durable but can be tiring to use, while a too-light knife might lack the necessary control.
Ease of Cleaning and Maintenance: Look for knives that are easy to clean and maintain, as hygiene is crucial when processing game.
Blades Quality and Materials
See the chart below for the Pros and Cons of each type:
| Blade Type | Common Types | Benefits | Considerations |
| --- | --- | --- | --- |
| Stainless Steel | 420HC, 440C, AUS-8 | Resistant to corrosion, easier to maintain, less prone to rust. | Can be softer, requiring more frequent sharpening. |
| High Carbon Steel | 1095, D2, CPM-3V | Retains sharpness longer, durable, suitable for heavy-duty tasks. | More prone to rust, requires regular oiling and cleaning. |
| Damascus Steel | – | Aesthetic appeal, balance of sharpness retention and durability. | More expensive, valued for appearance and functionality. |
| Ceramic | – | Extremely sharp, long-lasting edge, lightweight, corrosion-resistant. | Brittle, can chip or break if dropped, not suitable for prying/twisting tasks. |
| Titanium | – | Lightweight, highly corrosion-resistant, flexible. | Softer than steel, may dull quicker. |
| Laminated | – | Hard steel core for sharpness, encased in softer steel for toughness, balance of sharpness, edge retention, and durability. | Expensive due to complex manufacturing. |
| Edge Design/Grind | – | – | – |
| Full Flat Grind | – | Balances sharpness and strength. | – |
| Hollow Grind | – | Ultra-sharp. | Less durable, not ideal for heavy-duty tasks. |
| Scandinavian Grind | – | Excellent for woodwork and bushcraft. | – |
| Blade Coatings | – | Protect against corrosion, reduce glare, enhance aesthetics. | – |
| Black Oxide | – | – | – |
| Titanium Nitride | – | – | – |
| DLC (Diamond-Like Carbon) | – | – | – |
Knife Design, Blade Shape and Blade Length
The design and shape of a knife's blade play critical roles in its functionality, especially in field dressing. Here's a comparative analysis of various knife designs and blade shapes to help you understand their specific applications and benefits:
Full Tang Design

Description: The blade steel extends throughout the handle's length.
Benefits: Offers increased strength and durability. Provides better balance and weight distribution.
Ideal for: Hunters needing a robust knife for demanding tasks.

Drop-Point Blade

Description: The back (or spine) of the blade curves down to meet the sharpened edge, creating a lowered point.
Benefits: Provides control and adds strength to the tip. Ideal for skinning and slicing.
Ideal for: General field dressing tasks and hunters who prefer a versatile blade for skinning and slicing.

Clip-Point Blade

Description: The back of the blade "clips" or concaves downward, creating a thinner and sharper point.
Benefits: Allows for quicker and deeper puncturing with less drag. Offers precision for detailed cutting.
Ideal for: Detailed work and tasks requiring precise cutting, like caping.

Gut Hook

Description: A small, sharpened hook is built into the blade's back edge.
Benefits: Simplifies the initial cut in the skinning process without damaging the underlying organs.
Ideal for: Hunters who prioritize ease and safety in the gutting process.

Tanto Blade

Description: Features a high point with a flat grind, leading to an extremely strong point.
Benefits: Excellent for piercing tough materials. Resists breaking and chipping.
Ideal for: Hunters needing a strong point for piercing and who may also use the knife for camp tasks and other survival tasks.

Trailing Point Blade

Description: The back edge curves upward, creating a large belly and a high point.
Benefits: Offers a larger cutting area. Ideal for slicing or skinning with long, sweeping motions.
Ideal for: Hunters focusing on skinning and slicing with a preference for long, smooth cuts.

Sheepsfoot and Wharncliffe Blades

Description: Straight edge with a rounded, unsharpened back. The Wharncliffe has a more gradual curve.
Benefits: Offers control and safety, with less risk of accidental puncturing.
Ideal for: Precise cuts and carving tasks, or when safety and control are paramount.
The choice of blade shape should align with your hunting needs. For versatile field dressing tasks, a drop-point blade is a good knife option. For specialized tasks like skinning or caping, consider a trailing point or clip-point blade.
Remember, the best knife is one that not only feels comfortable in your hand but also suits the specific tasks you'll be undertaking. Consider the game you typically hunt and the type of field dressing you perform most often when selecting your knife's blade shape and design.
Choosing the Right Knife for Your Needs
Factors to Consider When Buying the Best Knives
Blade Thickness

Importance: Affects the knife's strength and ability to handle different tasks. Thicker blades are more robust but may lack precision.
Tip: Choose thicker blades for tough tasks and thinner blades for more delicate, precise work.

Overall Length

Importance: Determines the knife's versatility and ease of use. Longer knives offer more leverage but can be unwieldy.
Tip: Consider a length that balances ease of handling with the ability to tackle the tasks you expect to encounter.

Weight

Importance: Impacts handling and fatigue. Heavier knives are typically more durable but can be tiring to use over time.
Tip: Opt for a weight that feels comfortable in your hand and suits the duration and intensity of your hunting trips.

Handle Material

Importance: Affects grip, comfort, and durability. Materials vary from woods and plastics to advanced composites.
Tip: Look for materials that offer a good grip, even in wet conditions, and consider durability and maintenance needs.
Matching the Knives (and Blade Length) to the Game
Small Game (rabbits, birds): Smaller, more precise knives. A slender, pointed blade for delicate work.
Medium Game (deer, antelope): Versatile knives with medium length and a balance of strength and precision. Drop-point knives are often ideal when deer hunting.
Large Game (elk, bear): Larger, robust knives capable of handling tougher tasks. Thicker and longer knives for deep cuts and strong leverage.
General Use: If you hunt a variety of game, a versatile medium-sized knife with a good balance of features is recommended.
Care and Maintenance of Your Field Dressing Knife
Cleaning: Always clean your knife after use. Remove debris and blood to prevent corrosion. Use soap and water but avoid harsh chemicals.
Drying: Thoroughly dry the knife after cleaning. Moisture can lead to rust, especially on high carbon steel knives.
Sharpening: Regularly sharpen your knife to maintain its edge. Use a sharpening stone, rod, or a professional service if necessary to get that razor edge.
Oil the Blade: Apply a light coat of oil to the blade, especially for high carbon steel, to prevent rust.
Handle Care: Depending on the material, treat the handle as needed. Some materials like wood may require occasional oiling or sealing.
Storage: Store the knife in a dry place. Use a sheath or a case to protect the blade, but ensure it's not damp.
Remember, taking care of your knife not only prolongs its life but also ensures it's ready and reliable for each hunting trip. Regular maintenance is key to keeping your field dressing knife in top condition.
H2: Conclusion and Final Thoughts
Summary of findings and top recommendations