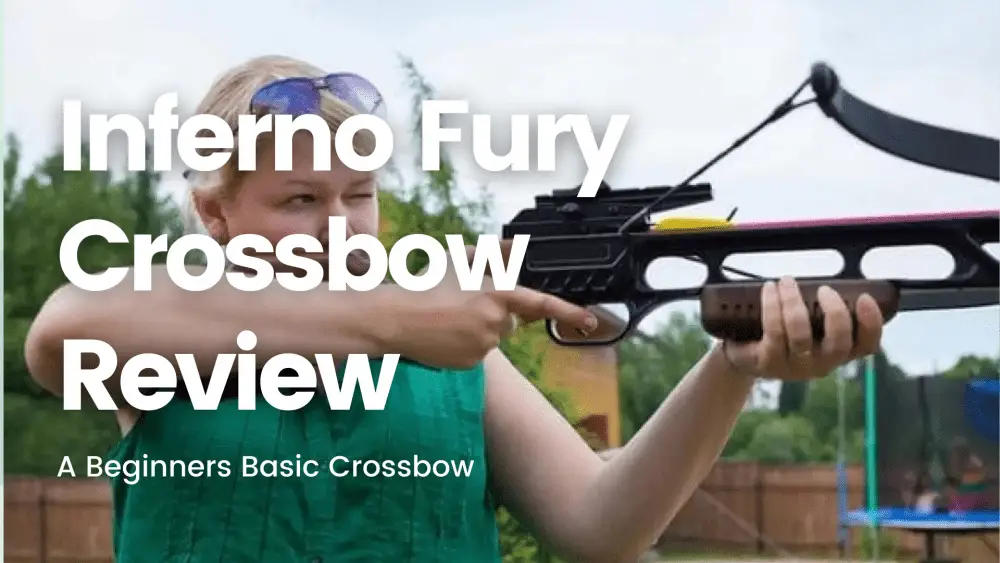 We hope you love the products we recommend and just so you know that as an Amazon Associate CoyoteHunting.org may earn from qualifying purchases.
You probably don't know what you are missing if you have not tried the Inferno Fury crossbow. This hunting tool really rocks. There are currently stacks of positive reviews for this product on Amazon which implies that it must be damn good. This crossbow is designed for hardened hunters that are looking to spice up their shooting experience.
The Inferno Fury crossbow is very light. It is fitted with a padded sling for you to be able to hang it on your shoulder and not end up with bruises. It also shoots arrows at a speed of 235 MPS. Such a speed is guaranteed to hit any animal hard. Additionally, the tool has a draw weight of 175lb. That's makes it a well-constructed hunting tool that balances being fast and being light. It's actually not common to come across hunting tools that have a higher draw weight and yet release arrows at a high speed.
Inferno Fury Crossbow
The recurve crossbow comes with a detachable quiver that has the capacity of holding four arrows. That saves you from the hustle of having to budget for a separate quiver. Even if you have a quiver, it's probably not as handy as this one because it's mounted on the frame of the crossbow. The quiver, therefore, adds convenience to your experience due to the fact you don't stretch much to get an arrow. Moreover, four free arrows are included in the deal and since they are durable you may not need to buy more in the near future. The crossbow comes with a thumb guard to protect your fingers.
Hunting with the Inferno Fury Crossbow
As long as you are hunting with the Inferno Fury crossbow, there is no day you will return home without something to show for the effort you have made. This is because it comes with a 3-dot multi-range scope that is designed to enhance your vision so that you can make precise shots. The scope is actually detachable which means that it can be replaced with another scope. In fact, it's you who will decide the part of the animal that you want to shoot. Nonetheless, it has to be well fleshed to create a barrier that will stop the arrow from breaking through.
The entire crossbow is decorated with a camo finish. This is not one of those tools that get worn out easily. The rail that conveys the waiver is made from aluminum and so it can never rust even if it's exposed to moisture. The barrel is covered with fiberglass material to boost its durability.
With the Inferno Fury crossbow, you will get everything you could ask for. There is a cocking rope aid that is included in the deal. Moreover, there is an additional string that serves as an immediate replacement in case the current one gets worn out. In most cases, the string wears out due to a lack of waxing. And for that reason, this tool comes with an anti dry-fire trigger mechanism.
The crossbow is designed to be used by both left- and right-handed hunters. And perhaps that is why there is only a trigger and cocking rope to be pulled. Besides that, this tool is designed to be compatible with both 16- and 20-inch arrows. There is therefore no reason not to buy this crossbow.
Features:
Crossbow uses 16- and 20-inch arrows
A cocking rope is included
Spare string
Waiver rail made from aluminum
Focus boosted by the 3-dot detachable scope
Detachable quiver
Arrows move at a speed of 235 FPS
Comes with a draw weight of 175lb
Padded sling
Shoots arrows at 235 FPS
175lb draw weight
Four-arrow detachable quiver
Four free arrows
Thumb guard to shield fingers
3-dot multi-range scope
Camo finish
Cocking aid device
Shooting speed is below 300 FPS
There is no string stopper
The Verdict
The Inferno Fury crossbow is a top-rated hunting tool. With a speed of 235 FPS, you can be sure that you will always hit any game that you target. Even if the animal you are pursuing is big, you will still shoot it down thanks to the 175lb draw weight of this tool. There is a multi-range 3-dot scope that guarantees clearer images.
Comparison:
The Inferno Fury crossbow is unlikely to disappoint. It does what it's designed to do without failing. Once you have sighted your target using the 3-dot multi-range scope, the arrow will hit the game instantly because it has a speed of 235 FPS. The other two products that can match the perfection of this crossbow include the Vista Camouflage crossbow and SAS Disturbance crossbow.
Conclusion:
The Inferno Fury crossbow is one of those hunting tools that embraces both style and performance. With a crossbow that releases arrows at a speed of 235 FPS, you won't have an excuse for not hitting your target. The package also includes three arrows that are absolutely free. When you start using this hunting tool, you will make better shots because your focus is improved by the 3-dot scope.
The SAS Disturbance crossbow lives up to its name. For a start, it has a nice black finish. The arrows shot from this tool are unstoppable because they move at a speed of 245 FPS. The crossbow comes with a fantastic draw weight of 175lb. With such features, there is no limit to the game that you can bring down. Besides that, you will get crystal clear images of your target thanks to its red-dot scope. The package comes with a four-arrow quiver with bracket. There are actually four free arrows that are made from aluminum.
The Vista Camouflage crossbow is a new entrant in the market. And as such it does not have any reviews on Amazon. Despite that, it rocks the jungle with its draw weight of 175lb and a speed of 250 FPS. It's therefore very lethal because it's designed to kill any size of the game from a distance. When you buy this crossbow, you will get rail lube, stringer, and a rope-cocking device and 8 arrows.
All these crossbows are in the same price range. The Vista Camouflage crossbow is at the bottom of the ranking. Though it's fairly priced like the other tools in the list, there is not even single customer feedback to support its performance and features.
The SAS Disturbance is second from the bottom. This crossbow has a higher speed than that of the Inferno Fury crossbow but its other features are somehow low. Its arrows move at a speed of 245 and the draw weight is at 175lb. It comes with a quiver and free arrows that are complemented with a dot scope.
The Inferno Fury crossbow, therefore, tops the ranking. The tool comes with a very unique scope that can be adjusted like a weaver. The sling that you use to carry the weapon is padded to give you comfort. The product comes with a quiver that has four arrows. The speed of each arrow that is shot using this tool is 235 FPS and the draw weight is 175lb.