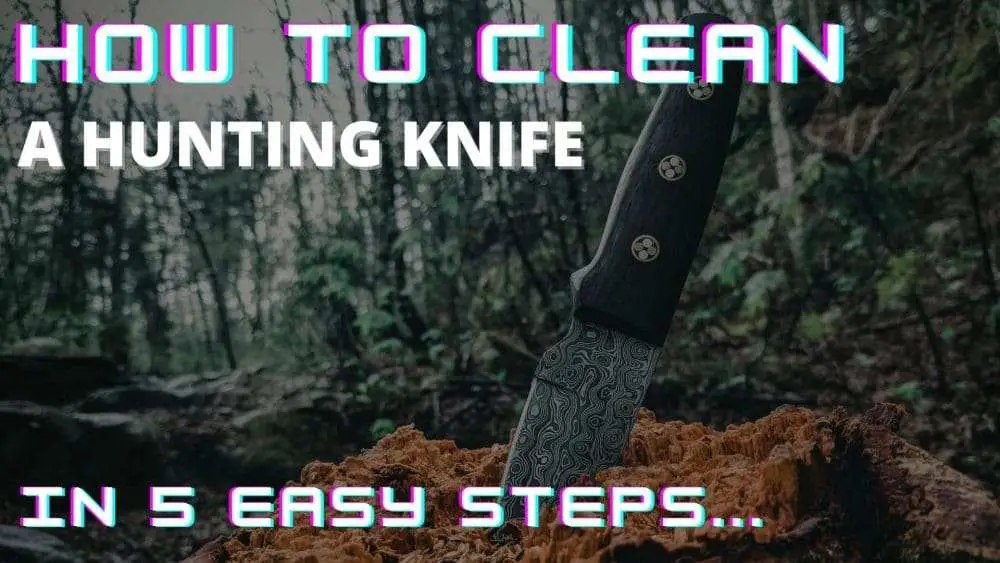 We hope you love the products we recommend and just so you know that as an Amazon Associate CoyoteHunting.org may earn from qualifying purchases.
A hunting knife can certainly get messy. Without proper maintenance, it can suffer from extensive wear and tear.
The best way to avoid this problem is to use an efficient way to clean it.
Knowing how to clean a hunting knife properly means that you will get more life out of your blade, and using it will be far more of a pleasant experience.
Today, there are two methods I would like to share with you. They are both very simple to do and require only a small amount of prep.
How to Clean a Hunting Knife
There are essentially two methods to clean a hunting knife:
The first method makes use of water and rotor oil.
The second method makes use of baking soda. So take a minute to check your garage and pantry, and see if you have those things, otherwise, read on to figure out which method is the best one for you!
Method 1:

How to Clean a Hunting Knife Using Rotor Oil:
We will highlight this step-by-step procedure below:
Begin by applying the rotor oil to the blade, from the top of the handle, up to the blade's tip.
Rinse the oil off using water
Apply the rotor oil again to the same area – from the top of the handle to the tip of the blade.
Rinse off the blade using water for a second time
Any dirt, residue, and excess rotor oil should now be mostly removed from the blade.
NOTE: If there is any residue or oil remaining on the blade, take a thick smooth rag and move the knife's blade through it. The rag will remove any leftover residue. You do have to ensure that the rag is pretty thick. This will stop it from being torn while cleaning the blade.
Maybe you don't have any Rotor oil lying around. The good thing about the next method is that there's a good chance you will have some baking soda, vinegar and some salt in the pantry. Here is the second method:
Method 2: How to Clean a Hunting Knife Using Baking Soda:
The method uses baking soda to clean a hunting knife, along with some vinegar and salt (if needed). It does, however; it does take more time than the Rotor Oil Method above and may require you to repeat some steps a few times to get the results you're looking for.
Here is the step-by-step procedure below:
Mix water and baking soda in equal proportions (about a tablespoon each).
Apply this mixture to the knife's blade and wash it off, give it a light scrubbing while being careful not to cut yourself.
After that, take a soft cloth, preferably a microfibre cloth, and move the blade through it. That will remove the leftover mixture and any stains.
If any stains remain, you can create a mixture of equal parts Salt and Vinegar.
Wash the blade with the salt and vinegar solution for a few minutes and use a rag to clean it.
While doing so, you have to ensure that you do not directly handle the blade. You have to use the rag to remove the mixture, stains, and other residues if any.
After that, simply let the knife dry.
Once it is dry, you will not have to worry about residue or maintenance either.
Further Knife Cleaning Viewing:
In Summary
Cleaning a hunting knife might sound difficult. However, if you know the exact procedure, you can do so very quickly. The advantage of the guide above is that it highlights the step-by-step procedure to clean your hunting knife. Doing so will allow you to make your hunting knife last for years together, and mean you will always have a bright, clean blade ready for whatever your next hunting adventure throws at you.