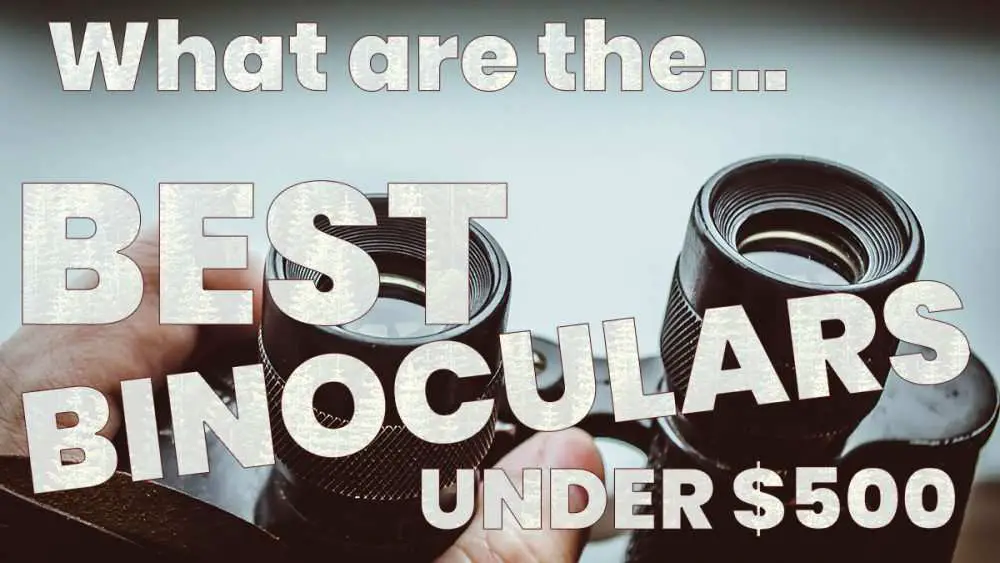 We hope you love the products we recommend and just so you know that as an Amazon Associate CoyoteHunting.org may earn from qualifying purchases.
I get it, you're on a budget…
That's no reason to just go out and buy the most expensive set of binoculars you can find that fits within the $500 range. What you want to do is make sure you get the most bang for your buck! – Specifically – The best binoculars under $500!
The first thing I want to do is show you the top three things you need to look for in a quality set of binoculars. This will help you to see the value in the options I will present, and hopefully make the right decision to meet your needs.
Everyone has different needs, so what is the perfect set of binoculars within the budget for you, may not be the same for someone else.
Just quickly, if you couldn't be bothered reading through, or just want to know straight up what I think are the best binoculars under $500 here is my winner:
WINNER // THE BEST BINOCULARS UNDER $500 \\ WINNER
This thing is a serious beast!
The main feature that I love the most is that is a 15x maginification with a 56mm objective lens. That means it has a great level of magnification AND will allow you to see clearly in low light.
A Buyers Guide to finding the Best Binoculars Under $500
Particularly when shopping for binoculars under the $500 mark, there are a few features you need to consider:
FOV – Field of View
The field of view is the measurement taken at one thousand yards of the visible width when looking through the binoculars. Generally, the higher the magnification, the smaller the FOV would be.
If you are a hunter tracking your prey, you would need to make sure you can see enough of the space around the prey so that you can track them as they move.
If you cant see enough space to the left or right of the prey, it will be incredibly difficult to track them.
Alternatively, if you are buying a set of binoculars to simply 'see things up close' you may want to choose something with a narrower Field of View (FOV).
Durability
Durability is another very important characteristic of binoculars. You want a pair that will be able to withstand all the harsh treatment you put it through.
Another consideration regarding durability is whether you need your binoculars to be waterproof. Most binoculars in this price range do have this feature, but it is worth checking to be sure.
Anti-Fog Coating
An anti-fog lens coating is also necessary.
This prevents the condensation of water in for of small droplets on the lenses' surface.
This will help to keep your view clear and clean. The anti-fogging feature means your binoculars are perfect for a rainy day – or will cope better with quick changes in temperature and humidity.
Magnification
A binocular's magnification matters a lot. It affects almost every other feature of your binoculars.
If your plan is to watch or identify a small object from a long distance, then you will obviously need to choose high magnification.
The 4 Best Binoculars Under $500! – REVIEWS
Below we have some of the best binoculars that you can get for $500. These binoculars are also best for 100 yards. They have everything you're looking for.
#4 – Nikon Monarch 7 10×42 Roof Prism ED ATB – Review
One of the best binoculars under $500 is this one. This set of binoculars from Nikon is a multi-purpose product with a roof prism. It is waterproof and comes with a tripod, monopod, harness, cleaning system, a carrying case, and much more. It has a seven-year warranty on the non-optical components and a limited lifetime warranty on the optical system.
The binoculars offer high-quality imagery, and also have 10x magnification. The binoculars are best for 100 yards. This high magnification means that you can see things clearly from a greater distance. Nikon's extra-low dispersion (ED) glass helps transmit luminous images. The highly reflective dielectric coating of the prism allows it to transmit color evenly across the entire spectrum.
 Nikon's scratch-resistant makes these exposed surface easier to clean and prevents dust, dirt, and moisture from sticking to the class. With these binoculars, you're ready for an adventure. 
Pros:
Limited lifetime warranty on optical systems
7-year warranty on non-optical components
10x magnification
Cons:
Heavier in weight as compared to other binoculars
Needs a binocular tripod/monopod adapter
Summary:
The binoculars serve multiple purposes. It is made from excellent material that makes the product long-lasting and suitable for all sorts of adventures.
---
#3 – Roll over image to zoom in Zeiss Terra ED 10×42 Binoculars, Black – Review
These sleek binoculars from Zeiss are the perfect companion for you on your safari trips. They are very comfortable to use and offer an easy grip. The binoculars have the perfect eyecups, so you can easily view the objects in front of you. It also has a special grip area and a large focus wheel for easy access. Its field of view is 330 feet at 1000 yards, which is spectacular.
It also has an aluminum housing. Its focus type is center. They are ideal for daylight hunting and outdoor wildlife observation. The binoculars are light in weight as well and offer an outstanding resolution of details and comfortable viewing characteristics. It is also water-resistant, making it the perfect companion all year round.
Pros:
Comfortable eyecups
Special grip area
Field of view: 330 feet at a thousand yards
Cons:
Expensive as compared to other binoculars
Some customers have complained of a drop in quality with use.
Summary:
Although expensive, the binoculars have its advantages. Its special grip area makes it easy to use the binoculars. It also works well in low-light settings.
---
#2 – Vortex HD Roof Optics Viper Prism Binoculars – Review
The Vortex Optics Viper with Roof prism is an amazing set of binoculars. The product has a 42mm objective lens (10x magnification), it is full-size, however light in size and compact. The 'easy to grip' armored rubber chassis with thumb indents that are placed perfectly gives it a sleek, yet comfortable design.
The optical system of high-density shows photos in excellent resolution and with an edge to edge clarity. It shows even the smallest details. It also works perfectly in low-light settings, due to its XR anti-reflective lens coatings, which gives a full and bright view, regardless of the light.
Its right-eye diopter molds each barrel's focus to your eyes. The center-focus wheel provides full focus control and shark view. The eyecups also make it easy on your eyes.
The Argon purging and O-ring seals provide a lifetime of fog-proof and waterproof performance. Its surface is also scratch-resistant and prevents the buildup of oil or dirt. It is the perfect binoculars for 100 yards and more.
Pros:
Adjustable eyecups
Sleek design
High-density optical system
Cons:
Hard to use if you're wearing glasses
Bad light scattering
Summary:
For under $500, these binoculars provide a lot of features. They are also easier on the eyes and have a comfortable grip. The design makes them perfect for use.
#1 – Vortex Optics Diamondback HD Binoculars – Review
These binoculars are the perfect budget fit, they are less than $500, and cost a quarter less than the ones mentioned above. These binoculars come with 15x magnification, yes, you read that right. For under $500, you're getting binoculars that provide 5x more magnification than any other at the same price or even above. 
All surfaces that are air-to-glass have anti-reflective coatings. These completely multi-coated lenses increase light transmission. The dielectric coating provides color-accurate, clear, and bright images. Armortek coating protects lenses from dirt, oil, and scratches.  
The eyecups can be adjusted as well and can be twisted up and down for comfortable viewing. They are perfect, even if you are wearing glasses. The focus of both the binoculars is adjusted simultaneously by the center-focus wheel.
The diopter can also be adjusted for differences in your eyes. The rubber armor on the product provides a non-slip grip and offers durability and protection. They are also tripod-adaptable.
Pros:
15x magnification
O-ring seals and argon purging provide fog-proof and waterproof performance
Withstands impact and recoil
Extremely affordable
Cons:
Recommended to be used with tripods to avoid 'handshaking.'
Summary:
These binoculars are perfect. They are low in price and offer many more features than other binoculars. They're durable and perfect for a rainy day. It provides color, accurate, bright, and clear imagery.
Conclusion
When it comes to binoculars, there are multiple options in every range. However, it is very important that you spend your money on a trustworthy product so that you won't have to go through the hassle of having to replace your binoculars time and time again.